This amazing IntelliFlo Variable Speed features 8 speeds with a programmable time clock for each speed and an LCD screen that displays actual wattage consumption and speed settings. It is the perfect solution for customers who want the savings and performance provided by dependable IntelliFlo technology with integrated time clock settings for code compliancy or installations without automation systems. This new IntelliFlo offers the same reliable performance and energy-savings that has made the IntelliFlo the best selling variable speed pump on the planet.
The IntelliFlo® VS-3050 is the revolutionary way to reduce energy costs and meet the desire for the safest pool possible. This "intelligent" pump's 8 speeds can help cut the pool portion of utility bills up to 90% and save you hundreds of dollars per year and thousands of dollars over its life. On the safety front, you install a Safety Vacuum Release System (SVRS) that senses drain blockage and automatically shuts the pump off to provide an important layer of entrapment protection.
Pentair Aquatic Systems is the first pool pump manufacturer in the industry to receive ENERGY STAR Certification on four of its variable speed/flow pumps-IntelliFlo® Variable Speed Pumps, IntelliFlo® VF pumps, IntelliFlo® VS+SVRS pumps, and IntelliPro® VS+SVRS pumps.
An Eco Select Choice: Standard pool pumps can consume as much energy as all other home appliances combined, often costing residential pool owners more than $1,000 per year! IntelliFlo pumps can
typically cut energy use up to 90%, generally saving $620 to $1,360 in utility costs annually
...more where rates are higher than average.*
*Savings based on comparison pump running between 6 and 12 hours per day at the national average of 15 cents/kilowatt hour in a 20,000 gallon pool. Actual savings may vary based on plumbing size and length, pump model, service factor, flow rates, and other hydraulic factors.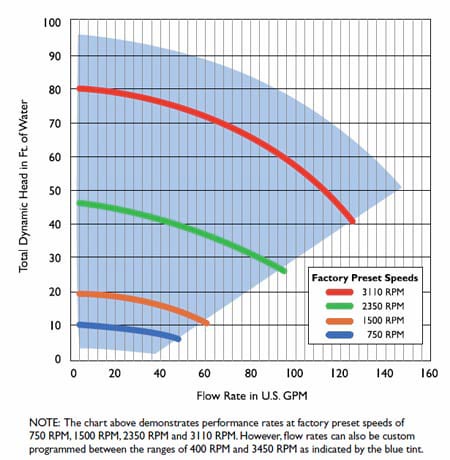 Frequently Asked Questions:
Question: If there is a problem with my pump after it is installed what do I do?
Answer:
This pump includes a 1-year Manufacturer's Warranty standalone. 3-Years if purchased on the same receipt with two other Pentair pieces of equipment in different categories (filter, heater, heat pump, salt generator, LED light, controller). If a problem arises with pump within the warranty period, contact Pentair directly at 800-831-7133 for assistance.
Question: If I have a Jandy RS Control System will it control an Intelliflo and what revision software do I need?
Answer:
If your Jandy RS System has at least revision O it will control the Intelliflo without the use of the Intellicom II Interface Adapter (521109). If you have less than revision O you will need to use the Intellicom II Interface adapter and have enough free relays in your power center for each speed you want to control on the box. You can also upgrade your board using the new iAquaLink. Call for details.
Question: I live outside of the United States and have 220 volt 50 HZ power, will the Intelliflo work for me?
Answer: The Intelliflo is rated for 50HZ/60HZ so it will also work outside of the US unlike many single speed pumps that are 60HZ only.