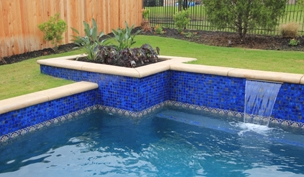 2"x2" Tiles are a unique size that can be used for fields of tiles, or as step markers.
Our beautiful 2" x 2" Tile series are an extremely attractive and versatile 2" tile. They come in a wide variety of bold colors and unique textures including porcelain and glass tiles.
The shade of tiles or stone may vary within any given color which is an inherent quality that enhances their beauty. All pool tiles are high fired porcelain or glass and colors can change with each die-lot.