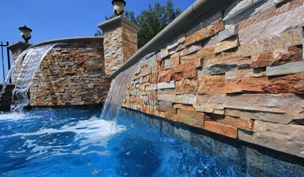 6"x6" Tiles add a bold statement to any pool or spa. Ideal for raised walls, the large size means less grout and more impact.

Borrowing influences from natures palette of colors and textures, we offer a wide variety of Textured tiles bring a natural beauty of their own. From subtle desert shades, to lush, colorful hues, these tiles transform your pool/spa area to an natural oasis.

The shade of tiles or stone may vary within any given color which is an inherent quality that enhances their beauty. All pool tiles are high fired porcelain or glass and colors can change with each die-lot.