We offer a full complement of automatic cleaners, from inground suction and inground pressure to the robotics that make the job simple. Whether your needs are residential or commercial, or if you have a specific make in mind, you'll find what you need here, at a great price.
Automatic pool cleaners have come a long way in recent years, and we have the best the market has to offer all in one place.

Suction cleaners use the pull of your pool's plumbing system to remove debris from the floor and send it through the skimmer to the filter. These are an economical option for smaller pools and those which require less frequent cleaning.

Pressure cleaners typically use a booster pump for propulsion, sending debris to a filter bag which can be emptied as needed. These usually mean less work for your pool's pump and filter.

Robotic cleaners are the newest trend in pool maintenance, and we recommend them because of their quality and durability. They run on electricity and can filter debris much more finely than the other types. Some models also include remote controls and can climb and clean pool walls in addition to the pool floor.

No matter what type cleaner you choose, we carry the most-established brand names from Polaris to Zodiac to Pentair Kreepy Krauly to Poolvergnuegen. We also carry a complete line of replacement parts and accessories to keep your original cleaner in top shape for many swim seasons to come.

We welcome your questions about our quality cleaners. Please don't hesitate to call or write and we'll be happy to address your concerns.

In the video below, sales professional Rob walks you through the major categories of automatic pool cleaners to give you an idea of what's available.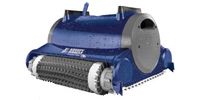 Automatic Pool Cleaners are a great way to clean a swimming pool and reduce long-term maintenance costs. Get the details on the different kinds of Automatic Pool Cleaners, and which one will suit you and your pool's needs.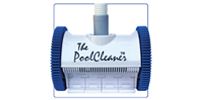 Tiered of your old pool cleaner that gets stuck and just doesn't thoroughly clean your pool? Want something easy to use with very little maintenance? Poolvergnuegen's The Pool Cleaner is the right one for you.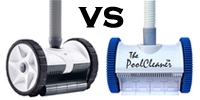 Looking for a new cleaner to get that messy pool under control? We look at two notable suction-side options: Poolvergnuegen's PoolCleaner and the new Kreepy Krauly Warrior, and let you draw your own conclusions.