Ledge Lounger In-Pool Umbrellas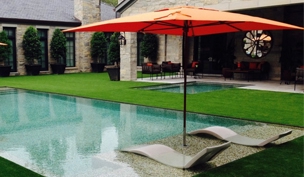 Intended to work seamlessly with the Ledge Lounger In-Pool Side Tables, the umbrellas feature the same weather-defying fabric used on the Ledge Lounger Pillows. Both Umbrella options are made from the best outdoor materials available and designed to be in the water. They're available in a variety of sizes and shapes and offered in more than 30 marine-grade fabrics. With custom top options for ventilation and personalization, these in-pool umbrellas are the quintessential piece for shade.

The Ledge Lounger Tables can support the 6' square or 8' octagon umbrellas. The 7.5' square and 9', 10' and 11' octagon umbrellas require an umbrella sleeve.