Global Pool Products Slides
Global Pool Products manufactures small pool slides for inground pools that are perfect for kids. The Splash model, at a height of just over four feet, is perfect for little riders. With enclosed plumbing and LED lighting, it's an excellent slide for your backyard oasis while using up minimal deck space.

If you're in search of a larger water slide for your inground pool, fear not, we've got options for that as well. Who needs a trip to the water park when you can make 360 degree turns on the Tsunami water slide? The molded handrails and enclosed water supply make all of our slides as safe as they are stylish.

A swimming pool slide can bring so much joy and excitement to your backyard pool experience! Whether you are searching for an inground pool slide or you need a recommendation on which slide is the best fit for your pool or pool deck, our team of experts are here to assist you.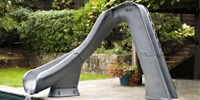 Wondering if your pool is ready for a slide? Here are five questions to ask your pool pro before purchasing a slide.
OPEN 6 DAYS A WEEK
Phone Support (Central Time)
6am - 6pm Monday - Saturday