PZ2-4V - For Pools, Spas and Commercial Water Purification Systems
Prozone adds a non-compressor model to its offerings for the large and heavy-duty pool and spa market. The PZ2-4V operates using a Venturi bypass or external compressor only, and is suitable for a broad range of applications, including commercial, institutional and residential.
The PZ2-4V is rated for large pools up to 40,000 gallons. It is also suitable for smaller-sized pools with higher than normal ozone requirements due to heavy bather loading, high temperatures, or other special conditions. The PZ2-4V is therefore ideal for hydrotherapy pools, swim spas, hotel and apartment pools, and many other heavy-duty settings.
Prozone has modified the PZ2-4 compressor-driven ozonator. The new PZ2-4V venturi system has four Prozone patented Corona Hybrid cartridges, and produces 2 grams of pure ozone per hour.
Prozone's patented Corona Hybrid Ozone systems combine very ultraviolet and corona discharge ozone generation technologies. Hybrid systems provide higher concentration ozone generation without the corrosive and toxic by-products of traditional corona discharge machines. The result is a new technology that produces a reliable, high output — and takes advantage of the inherent simplicity, ruggedness and pure ozone production of the very ultraviolet system.
Dual Universal Power Supplies 90-270 VAC, 50/60 hz
Ozone Injection
All units are supplied with Prozone's patented dual port injector bypass kit for maximum ozone/water mixing.
Saddle Clamps
Prozone has developed and patented a universal saddle clamp that makes installation of the PZ2-4V easier than ever. The connection is adjustable so that it can accommodate 1½ inch or 2 inch lines (or their metric equivalent).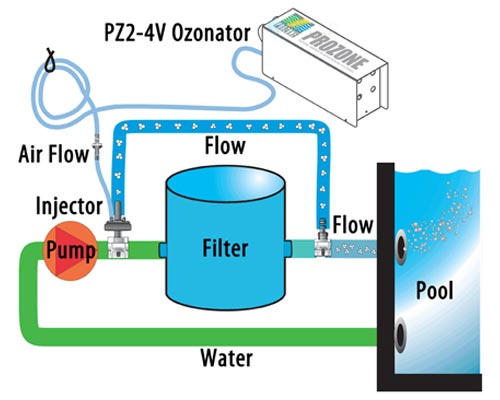 Specifications
Four Patented Prozone Corona Hybrid Arc Tubes
Prozone Universal Solid State Ballast
(90 VAC to 270 VAC, 50/60 Hz)
Electrical: 1.6 amps max
3-Wire Pigtail
Universal Composite Saddle Clamp (1½ or 2 in.) available
Operating Temperature: -25º F . to +140º F .
Size: 27" X 12" X 9"
Residential/Commercial Sizing
Chlorine: up to 100,000 gal.
Bromine: up to 50,000 gal.