Hip Hop Board on D-Lux Stand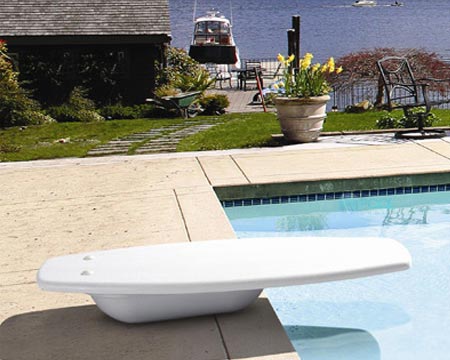 S.R. Smith's HipHop is the Hip way to Hop into your pool! The attractive board and base add fun to your pool, without distracting from your poolscape. The board and base are made from a durable composite material, ensuring a long life for your board and stand combination.
The accompanying D-Lux stand is designed specifically for use with this board, and can be installed on an existing 6' Flyte-Deck II jig. The board features a matching, SureFoot non-slip tread for maximum safety. Your board and stand combination also comes with an instructional diving video to ensure maximum safety when diving in your pool.
Specifications
Jump Stand Model: D-Lux
Jump Stand Color: Sandstone
Board Model: HipHop (2-hole)
Board Size: 80" Length
Board Color: Sandstone with White Tread
Board Weight Capacity: 250 lbs
All installations must comply with all applicable local and national codes and installation must be completed in accordance with S.R.Smith installation instructions.