NOTICE
: The Texas weather emergency has caused nationwide stock-outs on most products. This includes complete goods and especially parts and plumbing supplies. There are long shipping delays on the few products we do have in stock. Please contact us (
Live Chat
is the quickest response) to ask about availability. Phone calls are being answered as fast as we can so please keep trying,
Live Chat
us or send an email.
For more than a century, the Trane name has identified products and technology that stretched the world's idea of what was possible - a tradition that's still very much with the company. Trane is a world leader in providing systems, services, and solutions responsive to operations in manufacturing, hospitals, food processing and many other industries as well as homes worldwide. We have always been big when it comes to heating and cooling buildings, and now we are bringing that expertise to your pool environment too. If you need reliability, durability, and energy efficiency, then chose Trane.

All Trane gas pool heaters include a Cupro Nickel heat exchanger which provides exceptional value and longer product life. Ultimate energy efficiency is delivered by combining both superior hydraulic and thermal efficiencies for everyday savings and pool and spa enjoyment. Trane gas pool heaters are environmentally responsible and meet air quality emission standards in all low NOx areas.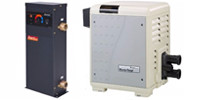 The search for the perfect heater for your pool or spa is sometimes riddled with weird acronyms, strange sizings, and unfamiliar terms. This guide, along with our sizing guide will hopefully provide all the information needed to find the heater perfectly suited for your pool.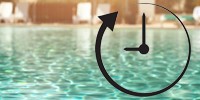 That is a question many people want to know, it is both simple and complex as there are variables to consider. In this article we'll lay out the simple answer for you and discuss the complexities to consider.