Winter Covers for Above Ground Pools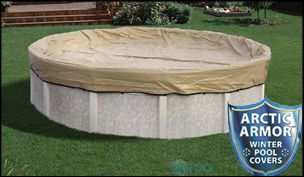 Above ground pools can be easily winterized with strong, long-lasting winter covers from Arctic Armor.
Keep your above ground pool clean and clear during the winter months with the right chemicals, cover and accessories.

Our above ground pool winter covers have the strength and durability of covers costing twice as much. A 4-foot overlap provides a better fit and helps prevent excessive wear and tear. Woven with strong, long-lasting polyethylene tapes to produce a cover that will hold up to winters worst. Plus, the covers are constructed of an extremely tight weave fabric that does not allow light to pass through. Without sunlight, algae cannot grow!

The easiest way to prepare your above ground swimming pool for the winter season is to use an all-in-one chemical kit. Winterizing pool chemical kits contain exactly the right chemicals that will keep your pool water and your pool liner clean. The winterizing chemicals for swimming pools contained in these kits are also pre-measured for your pool size and come with step-by-step instructions that will allow you to enjoy a simple, straightforward and successful pool closure.

Need help picking out the right above ground pool winterizing products? Call Pool Supply Unlimited for all your winterizing questions and needs.