Both Ozone and UV systems have been in regular use for decades sanitizing drinking water and swimming pools. Both are more natural, environmentally friendly alternatives to chemicals and their resulting bi-products. They are effective, safe and reliable methods of water sanitation.
To truly understand how each system works and the differences/similarities between the two a bit of a chemistry lesson is involved...
How Each System Works
At short wavelengths (200 - 400 nano-meters) ultraviolet light
can effectively destroy 99.9% of microorganism,
such as pathogens, viruses and molds,
as the pool water passes through the UV unit
.

Now, if you'd like a more in-depth science lesson, read on... UV light kills these microorganisms by destroying the nucleic acids in these organisms so that their DNA is disrupted, leaving them unable to multiply and loses its pathogenic effect. Simply put, UV rays destroy the microorganisms' ability to survive. Typically the ultraviolet sanitizer unit is plumbed inline and operates with the filter pump cycle. As the water passed through the unit it is sanitized when the UV light penetrates the cells of the pathogens.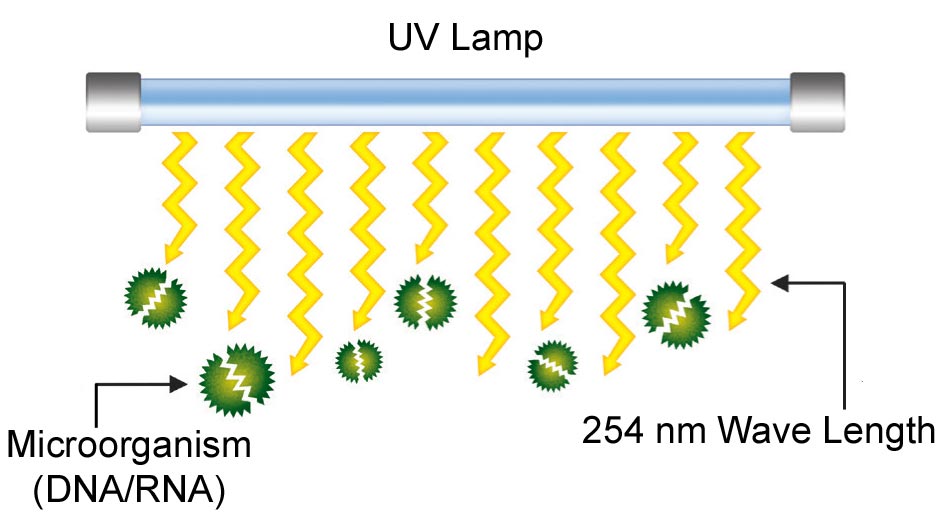 | | |
| --- | --- |
| | Ozone generators kill bacterial and virus via oxidation and is 200 times stronger than chlorine. What is oxidation you ask? Well let me start from the top... Ozone (O3) contains three atoms of oxygen (versus the two atoms we normally breathe) - This third oxygen atom of ozone makes it extremely reactive. This atom is eager to attach itself to other molecules. When contaminants such as bacteria or viruses make contact with ozone, the chemical structure is changed. As more ozone attacks the compounds, the virus and bacteria is eventually destroyed. The long and short of it is ozone kills bacteria by destroying the cell wall of the bacteria. Once the wall is destroyed the cell can no longer survive. |
But how does an ozone system produce the ozone? There are two methods, ultraviolet and corona discharge.
Corona discharge creates ozone by applying high voltage to a metallic grid sandwiched between two dielectrics. The high voltage passes through the dielectric to a grounded screen/plate and in the process, creates ozone from oxygen present in the chamber.
Ultraviolet light creates ozone when a wavelength at 254 nm (nano-meters) hits an oxygen atom. Both processes split oxygen molecules into single oxygen atoms (O). These atoms combine with another oxygen molecule (O2) to form ozone (O3).
The Facts When It Comes To Sanitizing Your Pool
While both UV Systems and Ozone Generators are very effective at killing organisms, viruses and breaking down chloramines, neither system provides long-term residual sanitation*. These methods do not have the "staying power" that chlorine and bromine based sanitizers have. Because swimmers and the environment are constantly introducing new germs and impurities into the pool water you need to use a traditional sanitizer (like chlorine or bromine) in conjunction with your alternative sanitizer. Chlorine or bromine provide a residual level of protection in your pool water and will work with your alternative sanitizer to
keep your pool microbial free and to help the underwater surfaces stay free of algae. The use of an alternative sanitizer like UV or Ozone can reduce chemical use up to 75%.
In addition to substantial reducing chemical usage both types of alternative sanitizers eliminate disinfection byproducts (such as chloramines) in pool water, which have been linked to breathing, eye, and skin irritation and even cancer.
Which System is Right For You and Your Pool?
| | | |
| --- | --- | --- |
| | | |
| | | |
| Maintenance | Simply change the bulb and quartz sleeve once a year, and take the necessary precautions during winter to ensure the cold does not harm your unit. | Ozone cells do not need to be replacement, but require annual periodic cleaning. |
| Safety | The ultraviolet lamps are housed in a sturdy casing. UV cannot leave or escape the sterilization chamber, so UV never enters the swimming pool. There is no residual effect that is harmful to humans, animals, aquatic life, plant life or the environment. | Ozone is safe if used correctly. However, high concentrations of ozone can cause health problems if proper safety measures are not taken. |
| *Residual Protection | Light is sanitized only when the water is in the UV chamber. No further primary sanitation process occurs once the flow leaves the chamber. | Oxidation occurs in the ozone generator. Ozone passes into the pool at low levels providing additional oxidation; but it is short lived. |
The fact is, there is no right or wrong system. Both UV Systems and Ozone Generators are effective alternative sanitizers and are priced comparatively. Some pool builders or professionals may prefer one system over another. Certain systems go in and out of "fashion" or favor in the industry. What is most important to consider is which system will work best with the pool set up you have or will have with your new pool. This is something you should talk to your pool builder/professional about or you can always contact our sales department with questions/concerns.