How Do You Clean A Green Swimming Pool?

by Stan Zielinski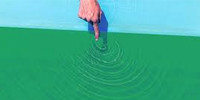 Yesterday your pool was pristine, the kids were swimming all day and this morning you find the pool green and murky. Like any of us would be, you're confused and wondering, why is my pool green and what should I do?
Is Your Pool Ready For A Slide?

by S.R.Smith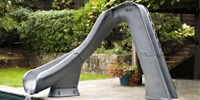 Wondering if your pool is ready for a slide? Here are five questions to ask your pool pro before purchasing a slide.
How To Inspect Your Diving Board This Pool Season

by S.R.Smith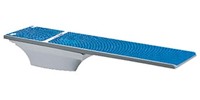 Does your pool have a diving board on it that's older than five years? Wondering if it's still safe to jump on? Here's a guide from S.R.Smith with five diving board inspection tips to see if your diving board is ready for pool season!
12 Easy Steps to Changing a Pool Light Bulb

by Scott Brown, Sarah Meiggs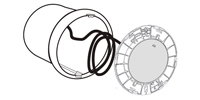 With summer fast approaching, now's the time to get your backyard in shape for neighborhood parties. If you're ready to update your pool lighting, check out our easy 12 step guide to changing pool and spa light bulbs.
How To Winterize A Swimming Pool

by John Reed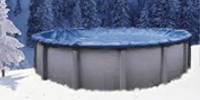 Usually, winter is not the time of year that most people want to think about their swimming pools but, in reality it is one of the most important times to pay attention to your investment. Properly winterizing your swimming pool will avoid unnecessary problems and costly repairs come springtime.
Alternative Sanitizers - Ultraviolet vs. Ozone

by Sarah Meiggs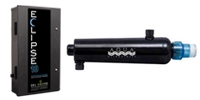 Both Ozone and UV systems are more natural, environmentally friendly alternatives to chemicals and their resulting bi-products. They are effective, safe and reliable methods of water sanitation. But what is the difference between Ozone and UV? And how do you know which one to choose when shopping for an alternative sanitizer?
How to Choose a Pool Cover

by Sarah Meiggs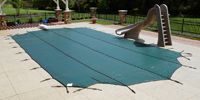 Unless you are one of the lucky few that get to enjoy year round warm weather and pool time, chances are you'll need to buy a cover for your pool. When you go shopping for a pool cover, here are the major things you'll want to consider.
A Guide to ADA Pool Lift Compliance

by Scott Brown, Sarah Meiggs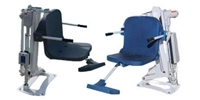 A major element in managing public pools over the last several years has been the challenge of complying with new provisions of the Americans with Disabilities Act, which were added in 2010. Learn more about how ADA compliance applies to you and your pool.
Landscape Lighting 101

by PSU Staff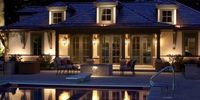 Landscape lighting is among the necessary accessories when swimming pools are concerned. They effectively contribute to a safer swimming environment. Plus they enhance the appearance of the area around your pool and patio.
Must Have Accessories For Your New Pool

by PSU Staff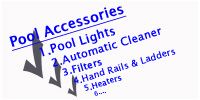 While by no means exhaustive, the swimming pool accessories mentioned here are considered to be among the must haves for all swimming pool owners.
Tips for using Pool Lights for Safety

by PSU Staff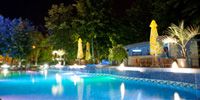 Swimming pool lights are absolutely necessary at night to illuminate dangerous edges and the walls inside the swimming area. Learn the best ways to use pool and landscape lighting to enhance the safety and ambiance of your pool and patio.
How to Choose a Pool Lift for the Home

by PSU Staff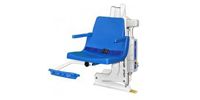 Using a pool lift can help someone with mobility issues in and out of the water. There are many choices when it comes to pool lifts - Learn more about these choices so you can make the right decision for your home pool lift.
The Importance of Pool Drain Safety

by PSU Staff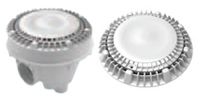 While people knew drains and drain covers had implications for the safety of swimmers; in the past their importance was not given the prominence they deserved. Learn more about the Federal law that now regulates pool and spa drain safety.