Unless you are one of the lucky few that get to enjoy year round warm weather and pool time, chances are you'll need to buy a cover for your pool. Unfortunately it isn't nearly as straightforward as you would hope; there are quite a few questions to answer and choices to be made. Here at Pool Supply Unlimited we want to make that process as painless as possible. When you're shopping for a pool cover, here are the major things you'll want to consider.
Should I buy a safety cover or a winter cover?
This choice is dependent on the pool owners' needs and preferences.
Winter Covers are much less expensive than Safety Covers.

Winter Covers are very easy to install and can often be done by just one person. Simply lay the cover over the pool and place water tubes around the perimeter.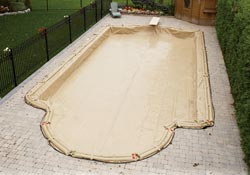 Safe
ty Covers
Typically requires professional installation because safety covers attach using posts (hooks) that are drilled into the pool deck.
Because Safety Covers float a larger price tag they are more durably made, and are more securely attached to the pool deck they are, well, safer.

Every day about 10 people die from unintentional drowning, of these, two are children and most of these drownings occur in home swimming pools.*
This should be a consideration for all home owners, and especially those with children.

Many people prefer a safety cover because they like the way it looks over a winter cover. This may seem silly, but consider you'll have to look at the pool cover at least a few months of the year.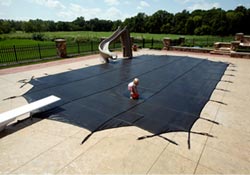 Is a mesh cover or solid cover better?
There are benefits to both solid and mesh.
| | |
| --- | --- |
| Mesh: | Solid: |



Solid Covers
The main advantage of solid covers is that they keep water out of the pool. During the fall and winter leaves, dirt and debris will collect on the cover. This causes any water from rain and snow to become dirty. If you have a mesh cover, this dirty water is going into the pool – with a solid cover this is prevented.
On the same note, most solid covers do not drain water from rain or snowfall. In such cases the water that collects on the surface of a solid cover must be pumped off the cover. This can be time consuming and pumps can be costly.
In addition to blocking water, solid covers don't allow light to pass through. The Arctic Armor solid safety covers are constructed of an extremely tight weave fabric that blocks sunlight. This is important because as it starts to warm up in the spring and the pool water warms up, algae will grow if the water receives sunlight.
Mesh Covers
All mesh covers eliminate the need for pumping by allowing water to pass through, however most mesh covers also allow a significant amount of dirt to pass through as well. This leaves you with a mess to clean up in the spring.

Both our safety and winter mesh covers are constructed using a super tight weave that allows water to pass through, but filters out the finest debris, lessening the task of pool cleaning in the spring.

Mesh covers are much lighter than solid covers. This means mesh covers can usually be taken on and off by one person, whereas a solid cover can require two or more people.
What cover should I buy for an above ground pool?
This makes your decision a bit easier – Safety covers are not made for traditional above ground pools, so you just need to choose which solid or mesh
above ground winter cover
is right for your needs. Our Arctic Armor above ground solid covers feature super-strong woven material and a big 4-foot overlap for better wear. There are quite a few choices ranging from the
economical cover
with an 8-year warranty, to the premium
Gorilla cover
that feature a 20-year warranty. The majority of the above ground pool selection is solid covers, with one 8-year warranty
mesh option
.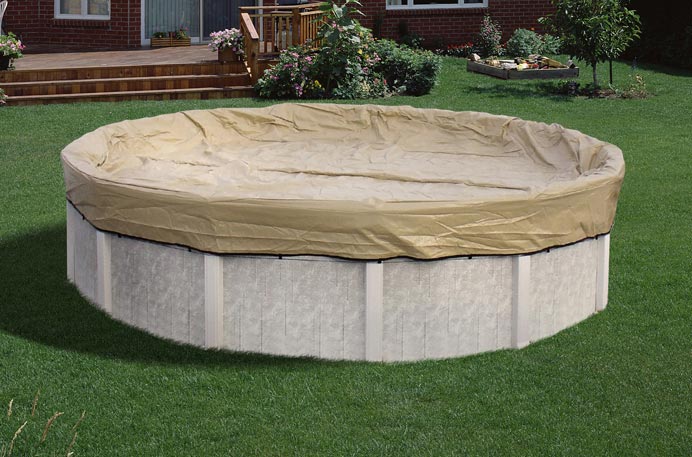 I don't have a traditionally shaped pool
We specialize in custom Safety Covers!
Click Here
for our custom cover measuring and order form. Simply complete the form and email it to us. Also, always feel free to call and speak with one of our pool cover specialist.
Where I live, I see more snow than pool time
The
Commercial Mesh Cover
with a 30-year warranty might be the best bet for your pool. This 30-year Safety Cover is constructed of industrial-grade mesh that will withstand heavier snow loads, extreme wind, and longer exposure to the sun. This cover is guaranteed to last two times longer than a standard mesh cover.
*"Unintentional Drowning: Get the Facts." Centers for Disease Control and Prevention.