Want to avoid a mess next spring? This fall invest in the right products to protect your pool during the winter months while it isn't being used. A high-quality inground pool cover protects your pool from leaves, dirt and debris. Our inground covers are constructed of tightly woven strong, long-lasting polyethylene that will hold up to winter's worst.
If you want to take pool protection to the next level, check out our extensive line of
safety covers
, offering the ultimate in protection for inground pools. Safety covers (such as the one shown below) protect your children and pets from the potential danger of falling into the pool in the off-season, as well as providing a shield for the pool itself from inclement weather and debris.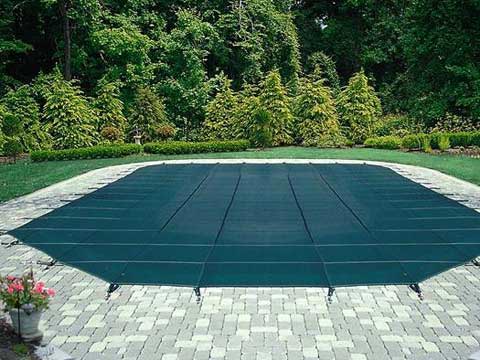 Safety covers not only represent a more substantial personal investment than winter covers, they come with outstanding warranty protection and provide a unique peace of mind for all pool owners. Need help picking out the right in-ground pool winterizing products? Call Pool Supply Unlimited for all your winterizing questions and needs.