COVID-19 Notice: Pool Supply Unlimited is open for business. Our customer service team is available, and we are shipping orders. Click here for more information.
No matter the size or location of your swimming pool, a slide is the perfect addition to provide many hours of entertainment.

Most anyone - young or old - who enjoys pools, appreciates slides as well. Kids love them and (most) parents do, too - or at least they love having something to occupy their children for a while. We offer residential commercial pool slides from industry leader, S.R.Smith, so check our selection out. Whether you're a homeowner or refurbishing an apartment complex or hotel, you're sure to find something you like here.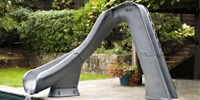 Wondering if your pool is ready for a slide? Here are five questions to ask your pool pro before purchasing a slide.