We build quality pool cleaners that saves you money and time, pool after pool, day after day.

Why waste your money on something that is just a performance and quality compromise? You're a pro, aren't you? Use professional equipment. HAMMER-HEAD is the only choice for professionals nationwide! Our self-contained, 12-volt portable vacuum system is perfectly suited for the pool service technician or aquatic facility manager. And it was designed by a pool industry professional with over 30 years of experience in the field.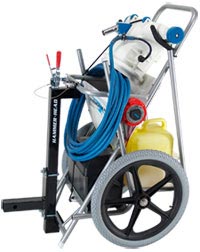 The Service-21 unit (shown here) mounts securely to any trailer or 2" trailer hitch receiver for safe transport. Lightweight and easy to maneuver, the HAMMER-HEAD cart can transport everything you need in one trip. Just set up next to the pool, attach a standard pool pole and start cleaning at once. In the water, the patented head design and its 30-pound thrust motor pump an amazing 16,000 GPH, vacuuming up almost anything including sticks, leaves, sand, and even coins.
Because the HAMMER-HEAD sets up faster than conventional vacuum systems it saves you a lot of time. If your daily workload is large, HAMMER-HEAD's time savings (up to 50% per pool) helps increase overall profitability by shortening your day. You'll accomplish more with less effort, and your HAMMER-HEAD will pay for itself in time savings alone.
We suggest the use of a 12 volt deep-cycle marine battery and a minimum 6 amp automatic charger. Marine batteries typically come in series sizes 24, 27, and 31. The bigger the battery, the longer the run-time. Avoid marine starting batteries. A general purpose trolling motor battery will work fine. Sealed, or maintenance-free batteries are a good idea so you don't have to check liquid levels.
Your charger should be able to handle 6 amps or better. Most automatic chargers have different settings for 3 amp, 6 amp or 10-15 amps. For full overnight charging, you should use a 6 or 10 amp setting. Avoid rapid charging a marine battery and charge the battery all the time, regardless of how much you used it. These items are available at super stores, marine supply stores, auto supply stores, and some buyer's clubs. Make sure you charge your new battery before using it for the first time.
Thank you for choosing Hammerhead!