COVID-19 Notice
: Pool Supply Unlimited is open for business online! We are experiencing extremely high call / email volume and responses are delayed. Our
FAQ
page has answers to many common questions.
Ultraviolet Sanitation Systems
One technology many pool owners may not know about for pool sterilization is Ultraviolet technology. UV light is a powerful tool in the fight against algae, germs, and bacteria. A pool UV system can be used in conjunction with a sand filter to keep your pool water healthy and sparkling!
A Natural Way To Sanitize

There are many reasons for using UV Sterilization for your pool, spa, or pond. After installing a UV sterilizer for your pool, the cost of pool upkeep will go down. Pool owners will see up to a 75% reduction in chemical use. Another bonus of reduced chlorine in your pool water will be the diminished impact of chlorine on your pool liner. Pool liner fading is a major problem associated with chlorine disinfection. UV sterilizers also allow the small amounts of chlorine needed for the residual treatments to remain "free chlorine," meaning the chlorine is able to sterilizer longer. Aside from the financial gains of switching from chlorine to UV disinfection, pool owners with see a dramatic reduction in disinfection byproducts (DBPs) in their pool water, which have been linked to cancer.

Disinfection byproducts are compounds which form when chlorine mixes with organic material, such as sunscreen, deodorant, sweat, urine and other things that are common in swimming pools. DBPs are harmful to humans and can cause cancer, asthma, and other physical problems. The risks associated with DBPs can be substantially reduced with a UV sterilizer.

UV sterilization also has an advantage over chlorine when dealing with water transmitted sickness. Cryptosporidium and Giardia are two protozoa which are not uncommon to find in pool water. Both Cryptosporidium and Giardia are harmful to humans and can be lethal in cases that go untreated. Cryptosporidium and Giardia have built up a resistance to Chlorine, and may only be removed with ultraviolet light, or ozone. When the water containing Cryptosporidium and Giardia pass through an Aqua Ultraviolet unit, the UV-C light alters the DNA of the protozoa, effectively neutralizing it.

Hot tubs and spas can also be made safer using UV technology. When many liquid chemicals are heated, they turn to vapor. Hot tubs can be easily fitted with a UV sterilizer to provide the same protection against algae, bacteria, and pathogens as chlorine without the risk of chlorine gas inhalation.

Our UV units can replace most of a pool's chlorine and also limit the amount of chemicals pool owners immerse themselves in to. UV units are easy to manage, simply change the bulb and quartz sleeve once a year, and take the necessary precautions during winter to ensure the cold does not harm your unit.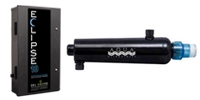 Both Ozone and UV systems are more natural, environmentally friendly alternatives to chemicals and their resulting bi-products. They are effective, safe and reliable methods of water sanitation. But what is the difference between Ozone and UV? And how do you know which one to choose when shopping for an alternative sanitizer?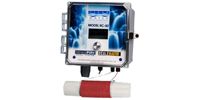 Problem algae spots eliminated, lower chlorine use and sparkling clear pools with less work are all great reasons to invest in a mineral sanitizer today!