NOTICE
: The pool & spa industry continues to face industry-wide shortages on many products that most vendors expect to last late into 2022.
...
We're allowing items to be purchased so that customers who choose to wait will have their order shipped when product is available. Most vendors are not providing any ETA on when items will be available. WE WILL EMAIL YOU RIGHT AWAY IF YOUR ITEM IS BACKORDERED.
DEL Advanced Sanitization
DEL Ozone + Germicidal UV sanitation is a natural, safe, and effective way to sanitize your pool or spa water. This combination method eliminates or reduces the need for traditional sanitation chemicals or thermal sanitation.
Why not save on energy, chemicals, and water? Del Ozone systems provide sanitation and disinfection in multiple applications. It is a highly effective way to minimize all costs on water, energy, chemicals and waste, while producing no harmful byproducts. This sanitation are superior because they are based on Del's proven engineering and technology.

Maximum Disinfection Synergy: O3 + UV -> AOP

The oxidation and disinfection potential of the Solar Eclipse is greater than the ozone and UV installed separately. This synergy is the power of AOP systems, and it is due to the fact that the ozone and UV work together in line to produce hydroxyl free radicals. The strong oxidation created by the Solar Eclipse results in much greater reduction of organic and inorganic substances in pool water than either ozone or UV alone, and certainly far more than chlorine.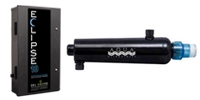 Both Ozone and UV systems are more natural, environmentally friendly alternatives to chemicals and their resulting bi-products. They are effective, safe and reliable methods of water sanitation. But what is the difference between Ozone and UV? And how do you know which one to choose when shopping for an alternative sanitizer?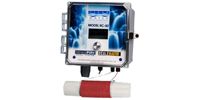 Problem algae spots eliminated, lower chlorine use and sparkling clear pools with less work are all great reasons to invest in a mineral sanitizer today!
OPEN 6 DAYS A WEEK
Phone Support (Pacific Time)
6am - 6pm Monday - Saturday