There is no such thing as safe, algae free swimming pool water without the use of some type of sanitizer like chlorine, bromine or biguanide product. Chlorine can be minimize however, by adding a mineral sanitizer system.
Mineral sanitizers
work by adding small amounts of ionic silver and copper to pool water thereby eliminating algae and bacteria while reducing chlorine demand.
Silver is used as a powerful bactericide in many products, and copper is used as a common algaecide. As water comes in contact with these minerals, positively charged ions are released, which destroy negatively charged contaminants. The disinfecting nature of these minerals makes them our choice for supplemental sanitizers in swimming pools and spas.
How Does it Work?
Silver and copper are most effective in water in their ionic form. The molecules are independent from other compounds and carry a positive charge. The charged ions are attracted to negatively charged organics such as bacteria and algae. Once attached, the ionic elements destroy the organics by penetrating their cell walls.
The ions are unaffected by sunlight or heat and can remain active in water for long periods. They are only removed by reacting with the organics or from splash-out. There must be a constant flow of these charged ions introduced to the water in order for this process to be effective.
Active and Passive Ionization
The two types of devices manufactured today that accomplish this ionization process are called active method devices and passive method devices.
Active method devices create ionic silver and copper by applying a low level direct current to electrodes that are plumbed into the filtration system. The electrodes, which are made from combinations of silver, copper and sometimes zinc, quickly release their ions into the water as they erode from electrolysis. The electrodes must be replaced periodically, and the water must be tested regularly to ensure the silver and copper levels do not rise to a point where staining could occur. Our favorite Active method ionizer is from
Clear Water Enviro Technologies
and includes a special electronic descaling system.
Passive methods do not use any electricity, instead using a flow-through cartridge containing a substrate that is coated with silver or impregnated with a combination of silver and copper. The substrate is made of small pebble-sized pieces that are retained in the plastic cartridge. The cartridge is then installed in a vessel that is plumbed into the pool's filtration system. As the water passes over the substrate, silver ions or a combination of silver and copper ions are slowly released. We offer several choices in passive method ionization from King Technologies, Zodiac and PoolRX.
Sequestering agents are not necessary, since the ions are released so slowly. The cartridge contents will remain active for up to 6 months in pools and 4 months in portable spas. Passive devices are also a perfect complement to salt water chlorinators. They do not interfere with chlorine generation, and many users find that they can turn the chlorine production rate down, making the electrolytic cell last longer. There are even salt water
chlorine generators
with built in passive method ionizers.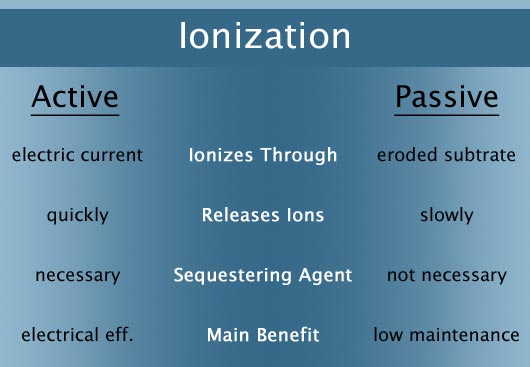 Benefits of Mineral Sanitizers
Neither the active nor passive methods eliminate the need for chlorine in a swimming pool, because minerals lack the ability to oxidize dead contaminants. Fortunately, the two biggest benefits of using minerals are a reduction in the amount of chlorine needed to maintain a residual, and the ability to maintain a lower residual. With a mineral sanitizer, you will notice at least some of the following:
No more algae

Fewer complaints about skin and eye irritation

Fewer shock treatments required

Fewer pH adjustments needed
The best testimonials for mineral sanitizers come from pool professionals who use and recommend them. Problem algae spots eliminated, lower chlorine use and sparkling clear pools with less work are all great reasons to invest in a mineral sanitizer today!