COVID-19 Notice: Pool Supply Unlimited is open for business. Our customer service team is available, and we are shipping orders. Click here for more information.
Create an atmosphere in your own home with pool and ping pong tables, dart boards, shuffleboard, foosball and more. The decor of the room is personal preference and can be made in your own style. You can also create a peaceful retreat, relieve some stress, entertain or just have fun with family and friends.
Many options and decisions are part of choosing the right look and feel of your own game room. Today a family game room can consist of a wet bar, ping pong table, gaming systems or shuffleboard. It has such a benefit for your family and can be transformed into a place to relax, relieve stress, entertain, or having family fun.

The decor of a game room is important as it creates the atmosphere of the room. Making it welcoming is important.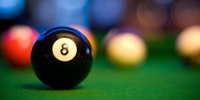 Need some ideas to stay entertained through the winter or just add some allure to your man cave? We have an extensive line of games for all ages, so take a look at what we can do for your home while keeping your checkbook intact.