NOTICE
: The Texas weather emergency in February in addition to the ongoing demand increase for pool products from the Covid pandemic have caused industry-wide shortages with products. We're allowing items to be purchased so that customers who choose to wait will have their order shipped when product arrives. Many times there are long shipping delays on the few products we do have in stock. Please contact us to ask about availability.
Live Chat
and email are the best. Please keep trying back via chat and email as we can't answer them as fast as they come in but we are here, so keep trying! We're currently 13+ days behind on returning email (email is the best way to get a reply when all chat associates are busy).
Aqua Ultraviolet Sterilizers
UV is versatile technology used for disinfecting water, other opaque liquids, hard surfaces and air. Using the same germicidal rays as the sun, but hundreds of times stronger UV offers a reliable, cost effective, environmentally friendly alternative to chemicals and their resulting bi-products.
Using UV is a reliable, cost effective, environmentally friendly method of reducing chemicals and their resulting bi-products.

UV is a proven method to kill bacteria and viruses reducing the volume, cost and side effects of chlorine by 75%. Chlorine reacts with organic compounds creating by-products like chloramines and THM (trihalomethane). Chloramines bring about the typical chlorine smell as well as skin and eye irritation. These compounds also damage pool equipment. THM can be taken in through the skin or the lungs and is considered as a trigger for respiratory problems. UV light leads to the destruction of chloramines effectively reducing these side effects.

Ultraviolet light produces germicidal rays in a wavelength of 200 – 400 nanometers (nm). The intensive UVC rays penetrate the cell wall of pathogens and impact their DNA. The cell can no longer multiply and loses its pathogenic effect.
UV disinfection is a purely physical process; organisms can not become resistant to it as they have to chemicals like chlorine. Neither the PH, natural taste nor the smell of the water is impaired by the UV-radiation.

Aqua Ultraviolet's specially designed UV lamps are enclosed in a watertight hard quartz tubes which allows for 99.9% UV transmission into the water. A high flow 3" body of either UV resistant plastic or 316 Stainless Steel is plumbed in line allowing the water to pass by the lamp at the optimal distance for irradiation.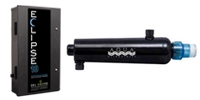 Both Ozone and UV systems are more natural, environmentally friendly alternatives to chemicals and their resulting bi-products. They are effective, safe and reliable methods of water sanitation. But what is the difference between Ozone and UV? And how do you know which one to choose when shopping for an alternative sanitizer?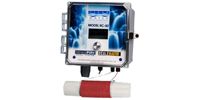 Problem algae spots eliminated, lower chlorine use and sparkling clear pools with less work are all great reasons to invest in a mineral sanitizer today!