NOTICE
: The pool & spa industry continues to face industry-wide shortages on many products that most vendors expect to last late into 2022. We're allowing items to be purchased so that customers who choose to wait will have their order shipped when product is available. Most vendors are not providing any ETA on when items will be available. WE WILL EMAIL YOU RIGHT AWAY IF YOUR ITEM IS BACKORDERED.
Winterizing Pool Chemicals
Keeping your pool clean is somewhat of a challenge but what about winter months? Winterizing your pool can ensure that your pool stays in good condition for many years. An important part of this process is pool chemicals.
Winterizing your pool is mainly to protect your pool from damage and to keep the pool clean so it's easier when spring arrives.

While you will need to take steps to protect your pool and pool equipment from freeze damage caused by expanding water, you will also need to make use of winterizing pool chemicals in order to keep your pool clean and to protect your pool from damage caused by improper water chemistry. When your water chemistry is not balanced, the surface of your swimming pool can become stained and etched. At the same time, stubborn algae blooms can grow and take over your swimming pool. As a result, winterizing swimming pool chemicals represent an extremely important component of overall pool winterization.

The easiest way to prepare your in-ground or above ground swimming pool for the winter season is to use an all-in-one chemical kit. Winterizing pool chemical kits contain exactly the right chemicals that will keep your pool water and your pool liner clean. The winterizing chemicals for swimming pools contained in these kits are also pre-measured for your pool size and come with step-by-step instructions that will allow you to enjoy a simple, straightforward and successful pool closure.

Winterizing pool chemicals for above ground pools and in-ground pools that you will commonly find in winterizing pool chemical kits include pool shock and an oxidizer. Chlorine-free pool shock is an excellent winterizing chemical as it will kill bacteria and other contaminants without reducing the effectiveness of other winterizing swimming pool chemicals such as algaecides. At the same time, chlorine-free pool shock will not bleach the walls of your swimming pool or damage the pool liner. As for non-chlorine oxidizers, these chemicals are typically released through a slow-release chemical floater and remove carbon dioxide from the pool water. Since carbon dioxide is one of algae's main food sources, non-chlorine oxidizers effectively inhibit algae growth.

Other winterizing pool chemicals for in-ground pools and above ground pools that are commonly contained in winterizing pool chemical kits include algaecides and stain prevention chemicals. Winterizers are powerful, time-released algaecides that are designed to work over a long period of time and assist pool shock and oxidizers in the elimination of algae growth. Stain prevention winterizing pool chemicals help to prevent waterline build up and the occurrence of stains on vinyl liners. They are able to do this by eliminating minerals and metals that are often found in pool water and which cause unsightly and troublesome stains.

Finally, all top-quality kits of winterizing pool chemicals for above ground pools and in-ground pools come with Winter Sorb or a similar product designed to keep your swimming pool clean by removing the grease and oils that have accumulated in the water during the swimming season. With its ability to absorb close to 40 times its weight in oil and grime, Winter Sorb plays an important role in cleaning pool water so that you can open your swimming pool more easily the following spring. For this reason, it's an important component of winterizing pool chemical kits.

Once you have purchased a kit that contains the winterizing swimming pool chemicals necessary to close your pool, it's extremely important to make sure that you apply the pool chemicals in the correct order. First, add the chlorine-free shock around the perimeter of the pool and allow it a full 30 minutes to oxidize any contaminants present in the water. Next, pour the bottle of winterizer into the water around the perimeter of the pool and ensure that it is evenly distributed. Then do the same with the bottle of winter stain-away. After the above chemicals have been added, run your pool's filter for at least one full hour to allow for even distribution of the chemicals in the water.

The next step to take is to lower the water level until it is approximately four inches below the skimmer. Then drain all water from the plumbing lines, the filter and the pool heater. After all equipment and plumbing has been treated with pool line anti-freeze, add the chemical floater with its time-released oxidizer. Make sure you place rather than throw the floater into the pool. Finally, add the Winter Sorb and cover the pool and you and your swimming pool will be ready for winter.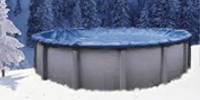 Usually, winter is not the time of year that most people want to think about their swimming pools but, in reality it is one of the most important times to pay attention to your investment. Properly winterizing your swimming pool will avoid unnecessary problems and costly repairs come springtime.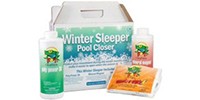 Retiring your pool for the winter is not a complicated procedure. Many D.I.Y pool owners successfully do this year after year and reopen in the spring with great success. If you do not balance and treat your water before closing up for the winter, you risk uncovering your pool in the spring to a mess that could take some serious work to clean up! In this post we will outline the pool closing chemicals you'll need.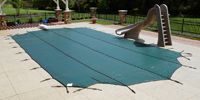 Unless you are one of the lucky few that get to enjoy year round warm weather and pool time, chances are you'll need to buy a cover for your pool. When you go shopping for a pool cover, here are the major things you'll want to consider.