The weather will be cooling down soon which means time to close the pool and turn to your hot tub for entertaining and relaxing. Before you do, make sure your spa is in prime working condition. Which might mean, replacing an old spa pump.
Choosing a replacement spa pump can be a bit confusing due to the fact there are so many brands and sizes. There are many hot tub manufacturers that use many different configurations. We are going to clear up the confusion here and cover a few key points to help you get the right pump.
Let's identify the pumps application.
I have a

small circulation pump

and another larger pump for the jets.
I have only one medium sized

single or

two speed pump

.
I have a one or more good size

single or

two speed pump

s.
No, mine is bigger like one of these...
OK, let's talk about size.
Take a look at motor frame; voltage/amperage; horse power; and plumbing connections.
Frame - Spa pump motors are 48 frame or 56 frame. Most are marked on the motor label itself. The majority of spa pumps use bracket mounted thru-bolt motors. Thru-bolts run from the back of the motor through the motor and hold the wet end on the front.
If you can't determine size from the motor label then y

ou can measure the distance between the

thru-bolts like pictured by the red line. This can be done from the rear of the motor just as easy.
Voltage - Spa pump motors are 115V or 230V or 115V/230V. In layman's terms 110 or 220. Pump motors that are labeled 115V/230V can only be wired one or the other depending on the voltage supply to the motor. Labeled 115V or labeled 230V can only accept that supply.
Amperage - Amps are a consideration because the controls that run the pumps may be designed at a certain rating. Try to keep them close to the same or a bit less if possible.
Here is a motor label with the frame and voltage circled in red for example. Note also the RPM and AMPS ratings. Dead give away it a two speed motor.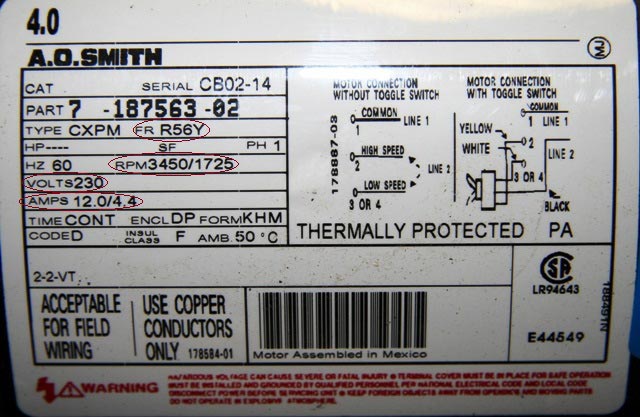 Horse Power - Spa pump horse power (HP) is a rating that pump manufacturers give by motor size and pump design (impeller size). They may use a 2HP motor and a designed wet end and call the pump 3HP. Some pump motor manufacturers leave this rating blank or mark it with dots or hyphens in this category which allows pump and hot tub manufacturers to call it whatever they want. Try to match the motor label and if it is blanked out use the pump manufacturer sticker if there is one. If no luck consider it a 2HP or call us.
There are many spas that also use small circulation pumps. Click here to see those.
And finally wet end styles.
Center discharge the plumbing connects right in the middle of the wet end. Can be rotated to the 9 o'clock, 12 o'clock, or 3 o'clock position.

Offset or side discharge the plumbing connects off set of the center of the wet end. Can be rotated to the 9 o'clock, 12 o'clock, or 3 o'clock position.

Hopefully that quick lesson helped you get on your way to replacing your spa pump. If still just as confused as you were before, don't worry! We're here to help! Feel free to comment below or give us a call and we'll do everything we can to get you the info you need!