Pool and spa owners typically spend a lot of time and money choosing the perfect components for their backyard setup. Beyond the functionality of the pool itself – the plumbing, the heater, the most energy-efficient pump, etc. – this can also extend to aesthetic elements such as tile, greenery and deck furniture.


The result is often a home centerpiece well worth the effort and expense, a gathering place that provides family and friends years of entertainment and memories which last for generations.

But the finishing touch – setting off this thoroughly-planned creation in just the right way – is often overlooked. Any backyard with an inviting, eye-pleasing pool setup is sure to be a hub of evening activity, and accenting the scenery with professional lighting is an essential piece of the home entertainment puzzle.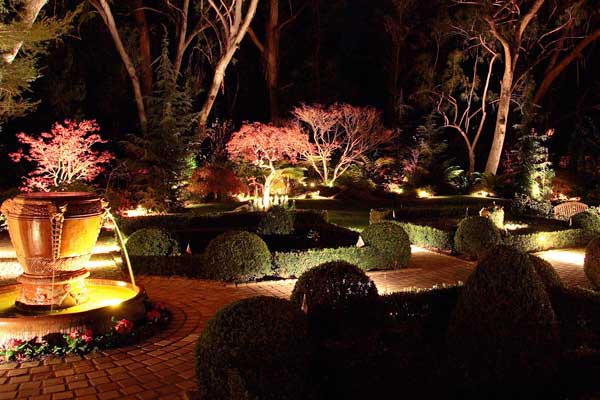 What is FXL?

FX Luminaire is an industry leader in landscape lighting and is Pool Supply Unlimited's chosen manufacturer in this growing field. FXL provides a classic yet contemporary look that emphasizes the natural beauty of homes while complementing a pool's own internal lighting for a rich, textured feel and a warm nighttime ambience.

There are so many options among FXL lights that shopping for them can be dizzying experience. There are path lights, 'up' and 'down' lights, wall lights and even specialty lights (often for inground installation) to consider. Another example is determining whether incandescent bulbs or their LED counterparts are right for a given application.

Traditional incandescents, with their familiar warm, yellowish glow, are slowly giving way to LEDs (characterized more by a cooler, blue feel) but are still a factor in the marketplace because they're more economical (up front, anyway) and provide the sturdy household light many consumers still prefer. Incandescents also present another choice to be made when considering FX lights – whether to use xenon or halogen bulbs. Halogens, as their use in headlights would indicate, are good for strong, white light, while xenon bulbs generally last longer and provide slightly more subtle shades.



LED lights, meanwhile, have become very popular for landscape applications over the last few years. They generally cost more than incandescent lights but usually last much longer and are far more versatile. As noted, they provide a somewhat softer feel than incandescents and the filters included in all FXL LED lights allow for multiple colors (like with LED pool lights) rather than just the standard white.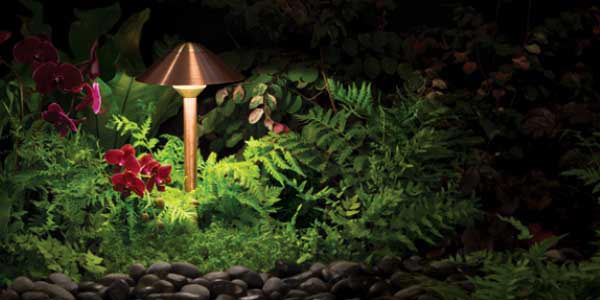 Different Solutions for Different Needs
FX Luminaire's product lines reflect the various applications for landscape lightning. Path lights, such as the incandescent CrescenteAlba (pictured above), can weave vivid patterns through any part of the yard (including front walkways) while adding elegance and texture. They also have multiple riser height options, usually ranging from 8'' to 36'', removing the need for any separate means of attachment. And wall lights, like the LED MollusqueSplendeur (pictured below), provide fullness of shape as well as an element of safety around any major structure.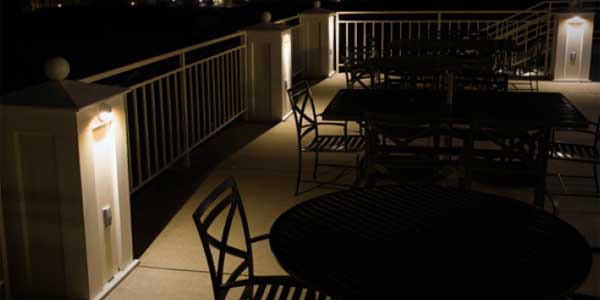 Up lights, including the incandescent LustroRame (pictured below, left), excel in putting the focus on floral arrangements, trees and fountains (as do FXL specialty lights, which are set inground), while down lights, like the incandescent CopertinaLuce (below right) offer wide swaths of overhead light, often for dining and socializing areas.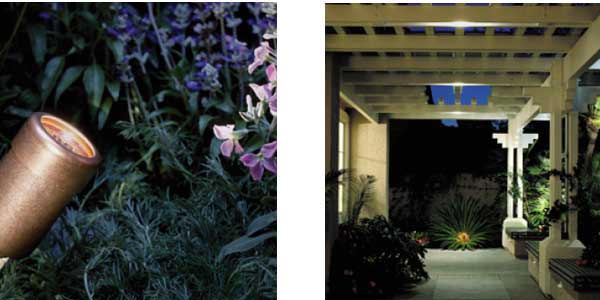 But the options go much, much further. The actual fixture, for instance, is the most instantly recognizable part of any landscape light and FXL has a host of distinct options for each product line here as well, combined with markedly different finishes. The TulipanoD'oro (shown below), for instance, is one of 24 available incandescent path lights. It uses a timeless copper finish in this photo but can be ordered in any of the 11 metal or powdercoat finishes shown below. Given all the choices for one product line alone, it's easy to see how a bit of creativity and experimentation can result in a virtually infinite number of possibilities for any backyard.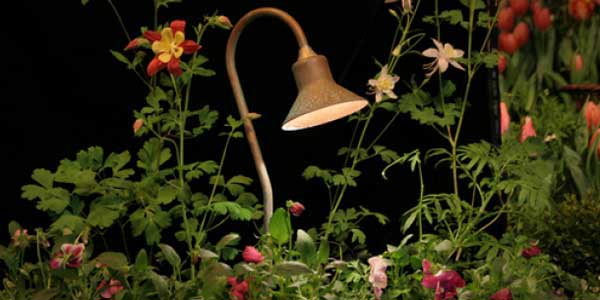 Available Metal Finishes

| | |
| --- | --- |
| Copper | Nickel Plate |
Available Powdercoat Finishes

| | | |
| --- | --- | --- |
| White Gloss | Flat White | Almond |
| Bronze Metallic | Desert Granite | Weathered Iron |
Behind It All: Luxor

A major trend in the pool industry recently is utilizing detached controls (such as in-home system 'brains' or smartphones) to handle physical components, and landscape lighting is no different. FXL's Luxor system allows users to program timing and dimming preferences, either with the system controller itself or a free downloadable app.

Lights can be put into controllable groups, or handled separately to be turned on or off or dimmed well ahead of time, creating unique feels for parties or any other social gathering. This is also, obviously, an ideal safety feature for times when the house is vacant and likely to stay so for several days or weeks at a time.

Help Is Here
Needless to say, FXL provides so many options in lighting that it's easy to feel overwhelmed when you're first exploring the market. But FXL.com is an excellent starting point for determining what's out there and what appeals to you specifically. Pay particular attention to the various fixtures, and remember that you have a wealth of choices in finishes as well for completely different looks based on your own tastes.

And once you know enough to at least have questions, give us a call and we'll help make sure you're on the right track. FX Luminaire lights are a tremendously popular product for us, so we have plenty of experience with just the sort of things you might be wondering. We're ready to assist you in every step of your journey to a brighter future!