Of all the elements in the pool and spa world that have evolved over the years, tile has undergone perhaps the most dramatic and readily apparent transformation. The pools of yesterday typically employed the familiar light blue tile and white coping many adults still associate with childhood, an era of simplified recreational architecture and limited aesthetic options.
But as form has caught up with function in the industry over the last couple of decades, tile has become an essential part of the modernization of both public and private pool setups, a basic and reasonably economical way to differentiate an owner's setup and to display personal tastes. It can help add a distinctive style to any pool (classic, rustic, contemporary, etc.) just as it can functionally provide an element of safety to decks and walkways.
Types of Tile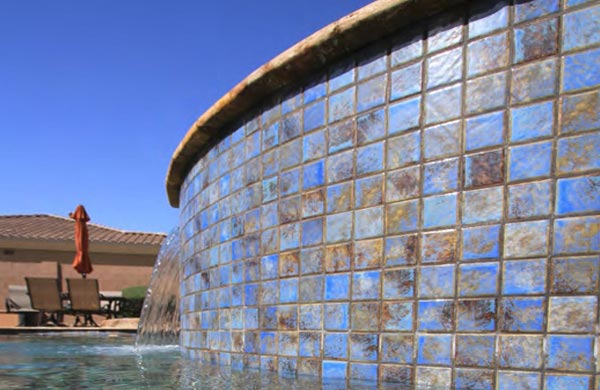 Porcelain (shown above) remains the predominant material in the tile market, largely because of its quality, versatility of design, relative affordability and resistance to water. Made from high-fired clay, porcelain provides a tougher, denser tile surface that is also less susceptible to staining and virtually frost-proof. Porcelain (often called 'ceramic') tile also allows for intricate artistic patterns which can be alternated along rows or self-contained within individual larger pieces for virtually limitless expressive options.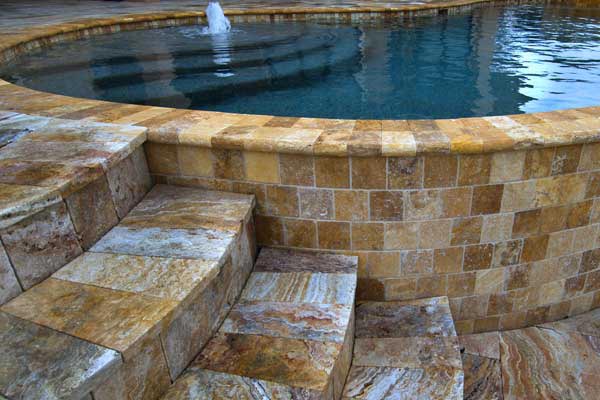 Stone tile (above) provides a somewhat simpler-looking alternative to porcelain. Made up mostly of granite or slate, stone is particularly popular in the arid Southwest, combining its understated earth tones and deep textures with natural landscapes for a ruggedly natural feel.
Because stone tile is vulnerable to breaking apart over time when exposed to water (the waterline tile above, in fact, is almost certainly made from porcelain), many porcelain tiles (like below) are designed to resemble stone to incorporate the strengths of both styles.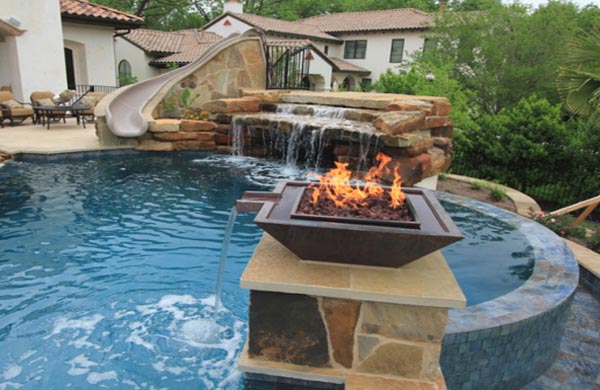 An emerging factor in the market is glass tile (shown below), which can create beautiful displays of reflected light that change throughout the day and evening. Glass remains on the high end of the price spectrum, however, and installation and maintenance are generally more labor intensive and error prone than the other major types.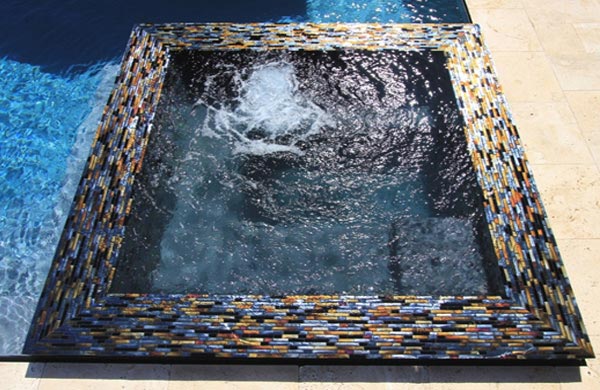 Another popular category of tile is mosaics, which can be made of any of the previously mentioned materials but are often considered a separate group because of their distinctive design. Common examples are fish or other animals drawn on the pool floor (which can be made up of porcelain or glass tile) and floral designs which run along the waterline, comprised of multiple tiles which create a single, repeating figure.
Purchase Options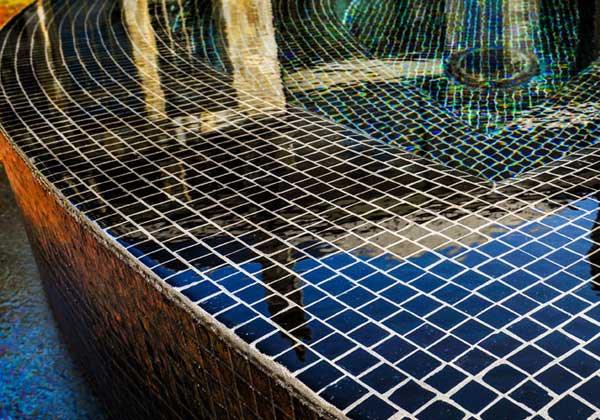 Individual piece size is a major factor to consider in shopping for pool tile. The smallest tiles (1" x 1") offer enormous opportunity for making boldly unique artistic statements, but typically mean a higher percentage of visible grout than larger sizes. Square pieces typically increase in size to 6" x 6". Bigger pieces, naturally, are generally more prevalent in stone and brick designs while porcelain and glass are preferable in smaller segments.
As mentioned, many contemporary designs (like below, made of both porcelain and glass) incorporate the strengths of the various tile types into a single setup. For instance, waterfalls (from a spa into a pool, for instance) can be set off greatly by smaller porcelain or glass tile receiving sunlight which reflects off the constant stream. Meanwhile, stone tile can be used on decks and walkways to enhance safety just as it provides a feel of natural beauty and simplicity.
The rapid growth of the pool tile market is evidenced by the number of established, reputable suppliers. National Pool Tile, for instance, has basically quintupled its number of showrooms across the country (from 15 to 75) in the last six years alone, reflecting a growing recreational industry in general but also a burgeoning interest in higher-end niceties like its handcrafted stone tiles. Fujiwa, another industry leader, has found a niche in larger-sized classic mosaic designs.
The Test of Time
Whether a pool is new or being renovated, adding tile to it is a significant investment and thus durability is a key consideration. Porcelain tile's water resistance is a great asset in this regard, but the proper application of thinset mortar (such as TEC or Laticrete) is vital for reliable support. And though stone tile offers a certain feel of timelessness visually, its high absorption rate of water means it must be treated periodically to avoid degradation.
The durability of glass tile is itself the subject of ongoing debate, since its ever-growing demand is being met far too often by unqualified professionals. A story in Pool and Spa News says "the glass-tile industry finds itself at a unique juncture, its use growing rapidly while the standardization of production and learning curve of many installers are only beginning."
Laying It Down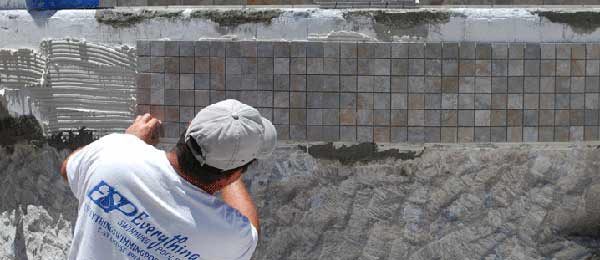 The final step in tiling a pool, of course, is installation, and experts almost universally agree that pool owners are better off outsourcing the job to respected specialists than taking it on themselves. Working out the specifics with a licensed tile company (the aforementioned thinset concerns, total material needed for specified dimensions, estimated hours required, etc.) can mean the difference between the perfect finishing touch on a backyard treasure and a headache that just won't go away.