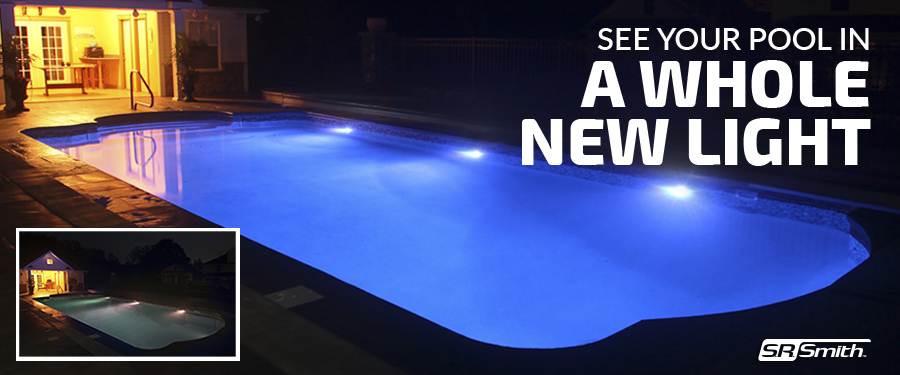 Is your pool going dark? It's time to see the light!
During the 1980s and early 2000s fiber optic lighting, manufactured by industry leaders such as FiberStars, Super Vision (Hayward), and American Products (Pentair), was installed in thousands of pools nationwide. Over time those fiber optics have faded and the industry has moved to a superior technology - brighter, more efficient LED lighting.
The
PT-6001
and
PT-6002
power centers seamlessly replace aging fiber optic illuminators and are virtually maintenance free. You'll not only get more cost-effective, brighter lights, you will also gain the ability to have color options and light shows at your fingertips using the handheld remote.
BEFORE | Old Fiber Optic Lighting

Five Fiber Optic Lights

AFTER | New LED Lighting

Three S.R. Smith TREO LED Lights
The S.R.Smith Fiber to LED lighting kits are a complete lighting system that includes a power center, wireless remote, PT-6000 series base and LED light(s).
Choose from kits that include the S.R.Smith LED pool light that fits your pool and application.
| | | |
| --- | --- | --- |
| | | |
| | Serviceable return fitting light for pools, spas and water features. | |
| | | |
Upgrading your lighting is fast and easy because existing fiber conduit is reused, which helps you save time and money! Update your pool lighting in three easy steps.*
| | | |
| --- | --- | --- |
| 1. Remove | 2. Replace | 3. Reconnect |
| | | |
| Remove the existing illuminator & pull out the fiber bundle. | Install new TREO cable in the existing conduit. | Connect the TREO lights to the PT-6000 and replace the cover. |
*Professional installation by a pool contractor or licensed electrician is required.