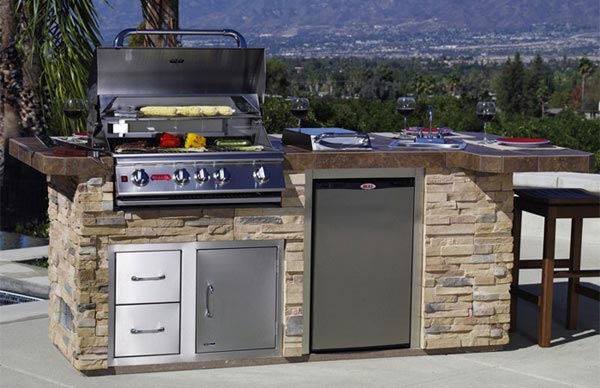 What would a pool party be without a BBQ? There's no doubt that food cooked on a
grill or smoker
tastes fantastic and that a grill or smoker is a summer pool party, backyard BBQ must-have. There are so many grills and smokers on the market today it is so hard to choose. We want to try and simplify this decision for you.
The easiest question for you to decide what type of grill or smoker you would like is if you would like it to moveable. Portable grills and
BBQ carts
are excellent grilling options for smaller spaces or homeowners looking for something small and movable. We carry a great selection of propane and natural gas grill carts in different sizes, styles, and finishes to best match your space, as well as portable wood tables designed to hold small
oval charcoal grills
.
If you are looking for something permanent, we carry BBQ islands.
BBQ Islands
by Bull and Lion BBQ come in various shapes and sizes to best fit your space and needs. The BBQ islands feature a gas grill and stainless-steel access door with a built-in lock and key to keep little hands out. You can even upgrade to a larger BBQ Island equipped with gas grills, sink, and stainless-steel refrigerator.
Outdoor kitchens are a perfect opportunity to bring your entertainment setup outdoors when the weather is nice. We carry a selection of built-in grills that come in a variety of sizes and styles along with the built-in accessories to add to your outdoor kitchen space.
Once you figure out if you would like your grill permanent or not it is time to decide what type works best for you.
Gas grills are fueled by liquid propane or natural gas, they make outdoor cooking almost as simple as cooking in your kitchen. Whichever type you choose, you simply flip on the burners and after a few minutes of preheating, you're ready to grill.
Gas grills have one or more main burners for grilling. Some even have side burners which allow you to use a pot or pan if needed.
Charcoal grills come in different styles but all use charcoal as the source of energy. Charcoal grills give you the option to grill or smoke.
Electric grills offer quick, long-running operation but must plug into a power outlet. These are a great option for those who live in apartment or area that cannot accommodate charcoal or gas grills.
After deciding the type of grill, you want you will need to decide on the size. Factors that will help you decide what size grill you need are the frequency of its intended use, and the volume of food that it will have to accommodate. If you plan to use your grill often for large parties, you will want to get a grill with lots of burners. If you're looking to just cook for yourself and family, you may only need two burners.
Here at
Pool Supply Unlimited we carry a great selection of charcoal and gas grills and outdoor kitchens from leading outdoor grill companies like Bull BBQ, Lion Premium Grills, Saber Grills, and the grill accessories to go with them.
If grilling isn't your thing but you want to upgrade your outdoor kitchen, we even carry pizza ovens that will bring that wood-fired taste to your home!