The ultimate outdoor experience. Bull & Lion Built In's are Stainless Steel barbecue grills that are in a class of their own. All grills are manufactured and designed with the highest quality materials. Each grill features dual lined stainless steel hoods, stainless steel knobs, warming racks, thermometers, and much more.
Looking for a new way to expand your outdoor living space? Why not add a complete outdoor kitchen. Make your outdoor living practical, easy, and beautiful.

Outdoor kitchens are a new way of life. What better than to have a complete meal outdoors? Whether your entertaining or enjoying a nice cool evening by the pool, enjoy the outdoors cooking on your new custom built grill.

Design something with a overhead shelter for use all year round. All accessories can be found including grills, sinks, drawers and cabinets all available at discounted prices here with PoolSupplyUnlimited.com.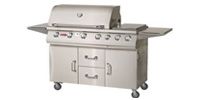 Before we know it the weather will start warming up and the grilling bug will start itching. Read up now on a few things to consider when buying a grill or smoker and you'll be a prepared buyer when spring rolls around.