COVID-19 Notice: Pool Supply Unlimited is open for business. Our customer service team is available, and we are shipping orders. Click here for more information.
If the name Mr. BBQ sounds familiar, it's because for the past 37 years they have been designing and manufacturing some of the best and most popular grilling accessories.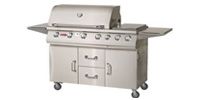 Before we know it the weather will start warming up and the grilling bug will start itching. Read up now on a few things to consider when buying a grill or smoker and you'll be a prepared buyer when spring rolls around.