The most popular addition to pool maintenance in the last 20 years is the introduction of the
chlorine generator system
. Silky smooth water, child-safe swimming environment, and maintenance free conditions are all assumptions of a chlorine generator pool, often referred to as a "salt water pool". The chlorine generator produces chlorine for the pool which prevents the pool owner from having to purchase, handle or store a potentially hazardous material. There are big advantages for pool owners that use this system of pool water sanitation. Chlorine generators have the ability to produce chlorine constantly (when the pump is running). The result is a residual of chlorine in the pool that prevents algae from growing. The secret of maintaining an efficient chlorine generating system is keeping the cell free of calcium and mineral deposits (read more about that
here
). The cell must be maintained so it can continue to make chlorine.
Why Salt-Water?
Ocean water is responsible for 71% of the Earth's surface and contains 97% of the planet's water. In addition, ocean water contains 35,000 parts per million (ppm) of salt. The point at which humans can taste salt in water is 3,500 ppm. Most chlorine generators require a salt content of 2,500 – 6,000 ppm. Optimal operation of a chlorine generator unit is one that requires less than 3,500 ppm. Salt content higher than 3,500 ppm can cause skin and eye irritation.
Showering in soft water is the same as swimming in a modern day saline pool. Generally, people who swim in a non-chlorine generator pool (a pool with no salt water in it) say that they feel like their skin dries more rapidly upon exiting the pool. The result of swimming in a traditionally chlorinated pool is dry, flakey skin. A salt-water pool (one with a chlorine generator) provides the swimmer with water that is smooth and skin that feels smooth leaves the swimmer feeling more refreshed.
How does it work?
Chlorine is generated through the process of electrolysis. Electrolysis is defined as a process in which electric current passes through a substance and causes a chemical change. When water circulates through the filter system, it passes through the chlorine generator cell. The chlorine generator creates an electronic process that combines hydrogen molecules from the water (made up of hydrogen and oxygen) with chlorine from the salt (sodium and chlorine) to produce Hypochlorous acid. This disinfectant is carried in the circulating water back into the pool.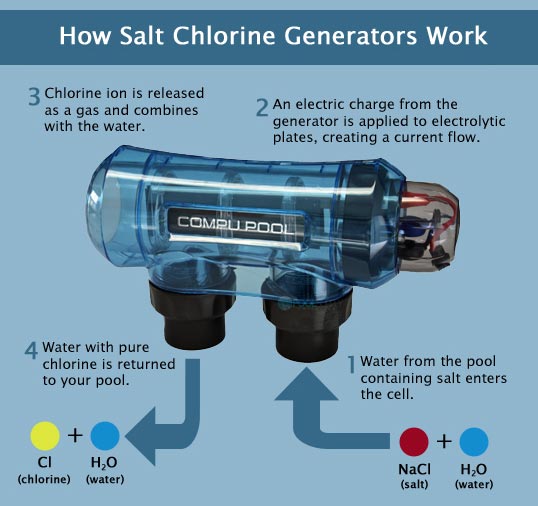 Chlorine, regardless of its type of introduction, creates Hypochlorous acid. Different types of chlorine include pure gas chlorine, Sodium Hypochlorite (otherwise known as liquid chlorine), Chlorine Tabs, Granular Di-Chor, and Cal-hypo. Hypochlorous acid is the active sanitizer that kills algae and other harmful contaminants in the water. The effectiveness of chlorine is based on water conditions. Maintaining an effective chlorine generator system involves maintaining the proper water chemistry. In other words, maintaining a "salt-water" pool involves consistently maintaining the proper water chemistry. This can be done with various water testing methods such as the
AquaChek Tru-Test
system.
Types of Chlorine Generators
The first type of generator is the brine unit. This type of chlorine generator has a compartment which has salt in the generator so that the pool owner does not have to add salt to the pool. The chlorine generator automatically adds salt to the water. The downside is brine units are very messy. The more common type of residential chlorine generator is one that generates chlorine based on the salt already in the pool water.
CompuPool
,
Jandy
,
Pentair
and
Hayward
offer competitive chlorine generator units that sanitize the common residential swimming pool.
Myths of Saltwater Pools
The biggest myth of saltwater pools is that they are chlorine free. Saltwater pools are not chlorine free. The main difference between saltwater pools and fresh water systems is that fresh water systems require the addition of chemical chlorine and salt water has a continual supply of chlorine to the pool water via the chlorine generator.

A second myth of saltwater pools is that they are maintenance free. Swimming pools equipped with chlorine generators are simply adding chlorine to the water. Certain systems, such as

Hayward's Sense & Dispense

system will test and adjust pool water. In most cases, pool owners are required to regularly test the water and adjust the water chemistry. Lamotte, AquaChek and Taylor, offer equipment to effectively test pool water.
Chlorine generators are a terrific way to maintain swimming pools and increase the pleasurable swimming pool experience. Pentair's IntelliChlor, Hayward's Aquarite, Jandy's Ei Series, and CompuPool all offer a great deal of options for chlorine generation. Enjoy your new investment and remember that regular chemical maintenance is necessary.