NOTICE
: The pool & spa industry continues to face industry-wide shortages on many products that most vendors expect to last late into 2022. We're allowing items to be purchased so that customers who choose to wait will have their order shipped when product is available. Most vendors are not providing any ETA on when items will be available. WE WILL EMAIL YOU RIGHT AWAY IF YOUR ITEM IS BACKORDERED.
Hayward Chlorine Generators
No more mixing, measuring and messing around with liquid or tablet chlorine again. Now you can automatically turn ordinary salt into a self-regenerating supply of pure chlorine for both pool and spa water that's clean, clear and luxuriously soft. Electronic chlorination has become the simple, safe and affordable alternative to using harsh, chemically-produced chlorine to sanitize pools and spas.

Unlike traditional chlorine treatments that require a regular routine of monitoring and replacing chlorine, electronic chlorination produces chlorine from common table salt. The key is the patented Turbo Cell®, a specially designed converter connected to the control unit. As water passes through the Turbo Cell, an extremely safe electrical charge turns the salt previously added to the water into fresh sanitizing chlorine which is then dispensed evenly throughout the pool. Just a teaspoon of salt per gallon is all it takes. Installation is quick, easy and suitable for any new or existing pool.

No chlorine odor, low operating costs, pays for itself, and is virtually maintenance free. Electronic chlorination is the ideal alternative to traditional factory produced chlorine for soft, silky-smooth water.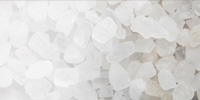 Saltwater pools are becoming commonplace everywhere. Feeling behind the times with your regular chlorine pool? We explain the advantages of salt systems, clear up some common misconceptions about them and tell you what it takes to make the switch once and for all.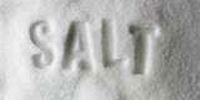 Silky smooth water and child-safe swimming environment are both assumptions of a "salt water pool". Learn more about the facts and benefits of chlorine generators for pool water sanitation.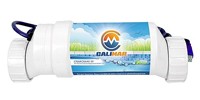 Need a replacement salt cell for your Hayward system in time for summer? Before you order another T-CELL-15, see how it stacks up to the powerhouse in saltwater chlorination, CaliMar.