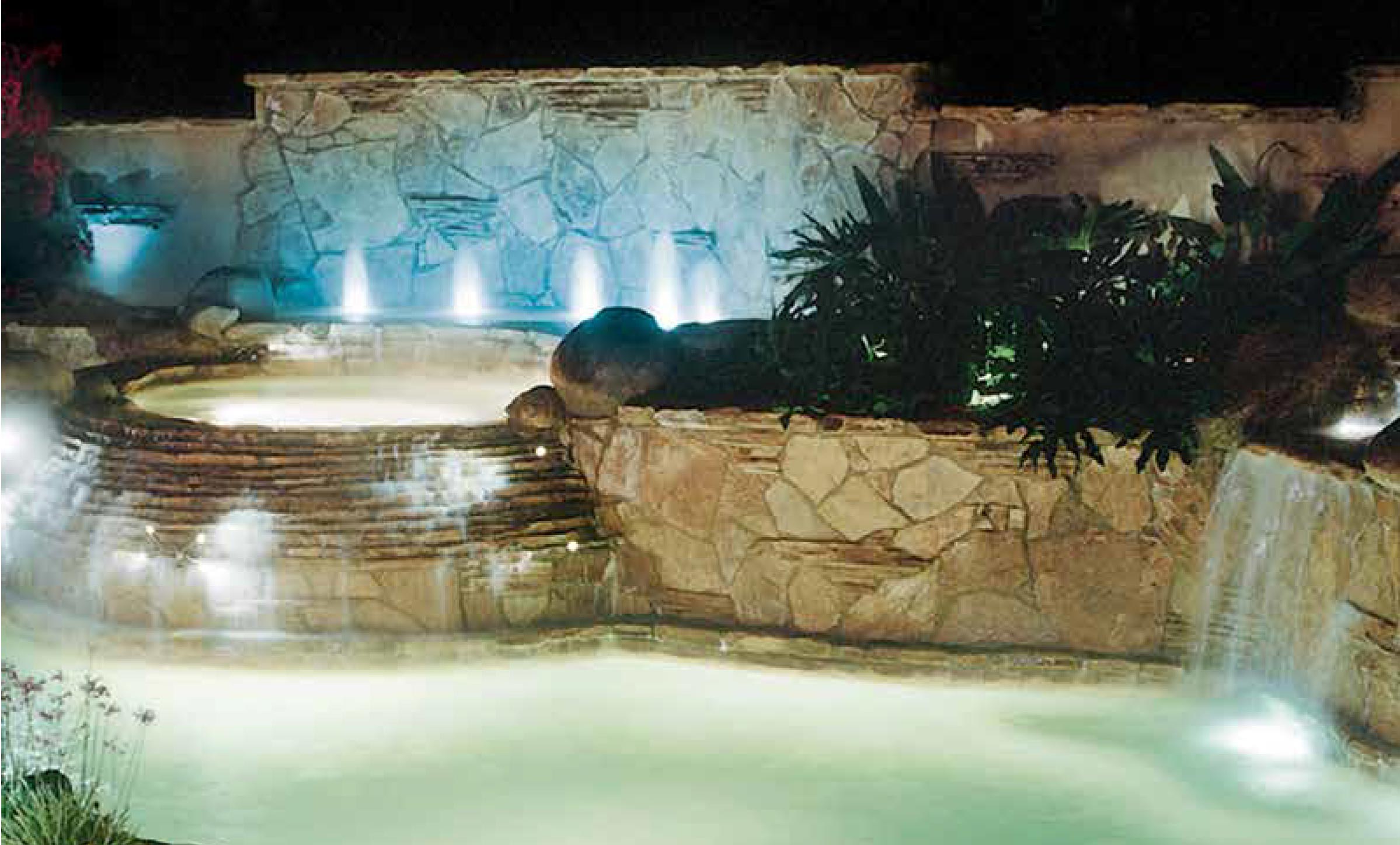 LEDs (Light Emitting Diodes) are revolutionizing the way we light up our pools. These solid-state lighting devices use semiconductor chips instead of a filament or gas, making them more efficient and longer-lasting than traditional light bulbs.
The Power of LED Pool Lighting
LED pool lighting, such as
Pentair LED pool lights
, are the wave of the future in terms of energy efficiency, lifetime value, quality of light, and controllability. They offer a vibrant spectrum of colors by mixing and matching combinations of individual colored LEDs. These combinations are programmed in a specific order to light up and transition through various colors at different speeds and in diverse color sequences. With a custom reflector and unique lens design, LED
pool lights
like
Pentair's IntelliBrite COLOR LEDs
offer super efficiency while being the brightest underwater LED light available.
| | |
| --- | --- |
| Eco-Friendly and Cost-Effective LED pool lights are an Eco Select™ Choice. They are the most energy-efficient pool and spa lighting options available. Plus, they can last 30,000 hours or more, minimizing replacement cost and disposal. | |
LED technology is the brightest and most responsive lighting system ever, so your pool will come alive. LEDs are extremely efficient and can save up to 79% on energy costs when compared to traditional pool lighting. The streamlined, sealed units are watertight and easy to install. There are no bulbs to change, no color wheels, and no moving parts for noiseless and service-free operation.
The Benefits of Low-Voltage Lighting

LED products are low-voltage lighting. This makes LED lights like J&J Electronics ColorSplash up to 90% more energy efficient than other lighting, such as incandescent and halogen. Lower power consumption lowers operating costs. Using LED lighting in place of incandescent or halogen lighting will reduce energy costs.
Because LED lighting consumes less energy, it generates very little heat. In comparison, an incandescent light dumps approximately 90% of the energy it consumes as heat, making the bulbs hot. Heat drastically reduces a light's lifespan. Because LED lighting generates very little heat, its lifespan far exceeds that of conventional lighting. The life of a single LED light can last up to 100,000 hours. This is significantly longer than the 1,500-hour maximum life of a standard light bulb.



Durability and Eco-Friendliness

LEDs operate without glass bulbs, delicate filaments, or complex tubing. This makes LED lighting far more shock and vibration resistant than incandescent or halogen lights. With LED pool and spa lighting, it's easier and less expensive to build displays underwater and in outdoor environments with vibration, dust, or wind. LED lighting does not contain mercury or produce EMI emissions; just another reason why LED lighting is an Earth-friendly or "green" lighting solution.

The Future is Bright with LED Pool Light Replacement

Whether you're considering LED pool light replacement, above-ground pool LED lights or installing pool lights for the first time, the benefits are clear. LED pool lights offer superior brightness, energy efficiency, and longevity compared to traditional lighting options. In conclusion, LED pool lights are not just a trend. They are the future of pool lighting. They provide numerous advantages, making them an outstanding option for those seeking to enhance their pool experience while also considering energy efficiency and environmental sustainability.

Level Up Your Pool Experience With Pool Supply Unlimited