Well everyone, it's that time of the year again. Let's forget about the rain, snow and freezing temperatures that were keeping us bundled up indoors for months and welcome the summer. Time to turn those unproductive days sitting inside the house into unproductive days lounging poolside getting a tan. But this isn't something you can just dive into. In order to get yourself into a pair of trunks floating the day away you're going to have to make sure your pool is set and ready to go. And we're here to provide you with a quick 5 step check list to insure your pool is opened properly.
1. Set-up and prep:

First things first, let's make sure everything is ready to go. Begin with surveying the area and removing any debris that may be obstructing your equipment from working properly. Clean out your leaf traps, baskets and filters, while making sure your equipment is put together correctly. Remove any plugs or gadgets installed during closing to prevent freezing. Then remove leaves, debris and water from the cover. Now you're ready to remove the

winter cover

from your pool.

It is extremely important to make sure everything is in top shape and in working condition before starting things up. One small issue in one area of your equipment can quickly turn into several large issues in other areas.

2. Add water and run it: At this point you're going to want to make sure your water is brought back to the proper level so you can begin running your filtration system again. Making sure your pump is primed, then start up your equipment. Make sure all air is flushed out of your plumbing and system by opening the air relief valve on your filter. Failure to do this can cause significant damage to your equipment because of all the compressed air built up.

During this time, inspect your system for any leaks or cracks. Now check out your pool. Does everything look as perfect as when you closed it? Hopefully you invested in a quality pool cover and everything looks good. If not, take this time and scoop out any leaves or dirt that may have accumulated during the winter season.
3. Check your Chems:

Getting your water chemistry dialed in and perfect is now your goal. It is highly recommended that you get a sample and take it to your local pool professional to get the most accurate reading before you start throwing in a bunch of chlorine and acid. Without knowing the proper amount of each chemical to add you can do significant damage and or stain your pool surface. It is also a good idea to let your water circulate a few hours before testing to allow the added water to mix in with the water already in the pool. After that, use a

test kit

to test thoroughly and add the appropriate amount of chemicals as needed. Make sure you are monitoring your calcium hardness, pH, total alkalinity, etc. Here is a list of the levels you want to keep your water chemistry around:

pH Levels – 7.2 to 7.4
Alkalinity – 80 to 120

Calcium Hardness – 150 ppm to 250 ppm
Chlorine – 1 ppm to 3 ppm
Conditioner – 60 ppm to 100 ppm



4. Patience is key: Now don't go jumping just yet. You still want to give your pool some time to clear up and insure everything in there is balanced. During this time you should be cleaning your filter regularly and continuing to test your chemistry. You may find some levels could use a little adjusting, so be prepared to add a little acid and chlorine as needed. The whole process of getting your pool to the crystal clear clarity you want generally takes about a week when done correctly.
5. Final assessment: You've done it! You have your pool sparkling and your feeling like a champ. Take your time and do a final walk through of your equipment. Is everything running properly? Are all hand rails, diving boards and slides securely fastened and corrosion free? These are the questions you need to be asking yourself. Be meticulous. Make sure nothing has been overlooked and all is running as it should be. Everything good? Spectacular!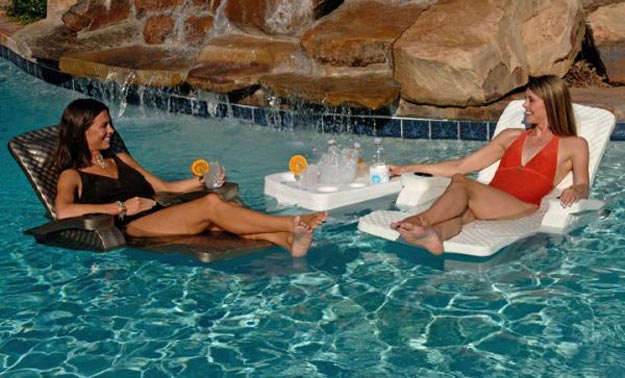 Now that you know how to open your pool, you may be wondering how long it will take to open your swimming pool. And that's a good question, but I'm going to give you an answer you won't love... it depends on a few factors:
How much dirt and debris you need to clean up.
What kind of shape your equipment is in.
How out of balance your water is.
If you took your time in the fall and diligently followed our
winterization guide
- cleaned out your pool, balanced your chemicals, winterized your equipment and covered your pool with a quality
safety cover
- opening your pool will likely be a breeze. But if you have a lot to clean up and your water is out of wack, you'll have to be dedicated to get your pool ready for that first swim. Worst case scenario, you have equipment that needs to be fixed or replaced.
From this point on you just have your weekly maintenance and upkeep. But that's what you have a pool guy for right? The only maintaining you want to be doing is keeping that tan looking good with a Pina Colada in one hand and a Carne Asada taco in the other. You've successfully opened your pool for the summer. All that hard work and sweat can now be washed away with one refreshing jump in your pool. Enjoy it.
Have questions? We're here to help! Feel free to comment below and we'll do everything we can to get you on your way to a crystal clear pool for this spring.