Lion Premium Grills L-90000 Stainless Steel Cart Only | 53861
| | | | |
| --- | --- | --- | --- |
| | | | |
Why Buy a Lion Grill?
Lion Premium Grills offers 2 luxurious stainless steel gas grills - the L75000 which features 4 burners and the L90000 which showcases 5 total burners - that are crafted from only the highest quality materials. Our premium grills are stacked with a wide range of options and are designed and manufactured by experts to provide the user with the ultimate grilling experience.
Quality Commercial Grade Product!
304 Stainless Steel won't Rust - Many grills look like stainless steel but lower quality stainless will rust and will not last.
16 Gauge Stainless Steel Construction - Heavy duty grill that feels good when you lift the hood and will last longer than the competition. 16 Gauge throughout, no partial 16 gauge. Double lined hood from front to back.
Key Features - Griddle and griddle remover w/ built in bottle opener, large commercial SS knobs, large commercial temp gauge, centered dual lighting, full rotisserie & infrared burner with a gear action motor that can hold up to 40 lbs, quick lite valves, adjustable warming rack, tight fitting drip tray, smoker box and canvas grill cover.
Serious Cooking Power - 75,000 to 90,000 BTU's which includes cast stainless steel burners and an infrared rotisserie burner and rotisserie. And along with the Lion Premium Griddle, you will have the versatility and power to grill anything con can dream of grilling.
Warranty - Strong warranty with a US company that will personally handle all the warranty claims after purchase. Backed by lifetime on our cast stainless steel burner, frame and housing, and cooking grates.
Value Price - Premium Product! Affordable Prices!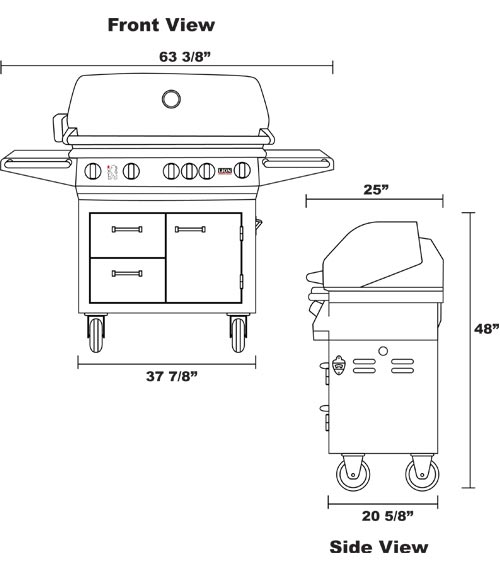 Lion Premium Grills L-90000 Stainless Steel Cart Only | 53861
Platinum Preferred Manufacturer