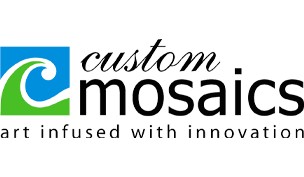 Custom Mosaics
Custom Mosaics is the world's largest manufacturer of high quality frost proof porcelain tile mosaics, ceramic tile mosaics and high performance Aqua Decals for swimming pools. We offer over three hundred and fifty in-stock designs ready for immediate shipping.
With three distinctive lines to choose from, personalization of your private paradise is fun and exciting.
Since 1998, Custom Mosaics has been creating exquisitely detailed porcelain and ceramic tile mosaics for application in swimming pools. We have recently introduced the equally stunning, yet budget friendly, high performance Aqua Decal to our product line. The striking HP Aqua Decal can be easily installed in any vinyl liner, fiberglass or concrete swimming pool long after its completion and without even draining the water!
Custom Mosaics
Phone: (954)748-3841
Fax: (954)748-3851
www.custommosaicsinc.com