// Initialize Pentair / Channel Advisor Sales Reporting sTrack.initialise();
NOTICE
: The pool & spa industry continues to face industry-wide shortages on many products that most vendors expect to last late into 2022. We're allowing items to be purchased so that customers who choose to wait will have their order shipped when product is available. Most vendors are not providing any ETA on when items will be available. WE WILL EMAIL YOU RIGHT AWAY IF YOUR ITEM IS BACKORDERED.
AquaStar 8" Star Anti-Entrapment Cover, Solid Riser Ring and Mud Frame (VGB Series) | White | A8R101
This item has been discontinued.


| | |
| --- | --- |
| | Platinum Preferred Manufacturer |
Fits: AquaStar (all Pre-VGB 8" Models)




American, Pentair,Color Match, Waterway and most Custom Molded (CMP)



8" Round Solid Riser Ring also sold separately
part # A8RRxxx


The xxx in all AquaStar part numbers is the color number



WE SUGGEST THE FOLLOWING ITEM(S) AS A SUITABLE ALTERNATIVE
Features
For single or multiple drain use (see installation instructions)
Single – 3" sump depth:

Floor: 145 GPM at 2.8 fps
Wall: 84 GPM at 1.7 fps

Single – Sumpless:
Floor: 140 GPM at 2.8 fps
Wall: 84 GPM at 1.7 fps
Floor/wall: 75 GPM at 1.5 fps
16.0 square inch opening
Additional sump versions also available
#316 stainless steel screws
Manufactured from superior UV-resistant engineered polymers
Meets or exceeds ANSI/APSP 16-2011 and NSF 50-2008 national standards and ASTM G154 UV testing
Listed with IAPMO R&T
Replace every five years from the date of installation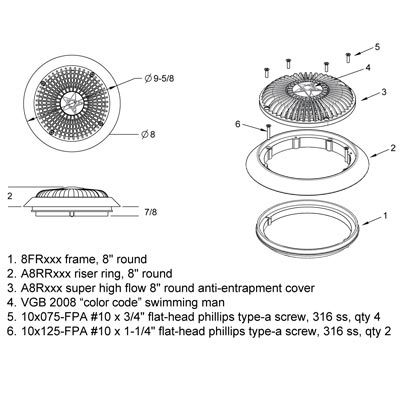 Good Retrofit
I drained my pool and decided to replace all five drain covers but couldn't find direct replacements since the pool is nearly 20 years old. I found these covers and drained new holes in the existing mud frames. Unfortunately I had to purchase complete assemblies because I couldn't purchase just the covers. Fortunately the price per assembly was very reasonable and the quality is excellent.
July 1, 2017
Purchased
over 4 years ago