Brilliant Wonders LED Light Bubbler | CMP-J Style Gunite Unit | 100' Cord 2-Wire | 25503-100-000
| | | | |
| --- | --- | --- | --- |
| | | | |
Imagine A Backyard Filled With Soothing Sound And Brilliant Color
Brilliant Wonders® LED Bubblers have Smart Sync™ built in and shoot streams up to thirty inches high in vivid display of LED color. A perfect feature for sun shelves, tanning ledges, beach entries, ponds, fountains and more. This is the ONLY LED Pool Bubbler that can be installed in gunite, vinyl & fiberglass pools.
Features
Bright & Efficient Cree® LEDs
Uses Only 20 Watts for High Output LED Performance
Built-in Smart Sync™ Technology
Exciting Streams of Water up to Over 30 Inches High
Non-Metallic Design: No Bonding, No Grounding
Flush Finish Installation
Completely Serviceable from the Top
LED Light is Below the Water Surface 4-12 inches
ETL Listed
Built-in CMP Smart Sync™ Technology
Available with Smart Sync programming to synchronize with all other Brilliant Wonders LED Lighting products, and lighting or controls from major pool OEMs. No other external control system is required for synchronization.
Vinyl & Fiberglass Installation Options
Choose a Gunite Bubbler from above and Vinyl/Fiberglass Kit. Every complete kit includes everything needed to install in a vinyl or fiberglass in ground pool.
Exclusive Fountain Effect Accesories
Combine with Brilliant Wonder LED Fountain Accessories to create the only built in LED fountain for in ground pools. Brilliant Wonders® Fountain Accessories come fully assembled and ready to install.
Technical Guide
Conduit: 1" conduit, 2½" lengths
Inlet: 1½" or 2" PVC pipe
Outlet: 3/4" or 1/2" adjustable eyeball
Flow Rate: 10-40 Gallons Per Minute
Water Depth: 4" to 12" water depth
Output: 1700 lumens white
Cord: 25, 50, 100, or 150 foot cord
Supply: 12 Volt AC, 1.6 AMP (20 Watt)
Two Wire: On/Off Cycle, Requires 12V AC Transformer (not included)
Four Wire: Requires CMP LED Control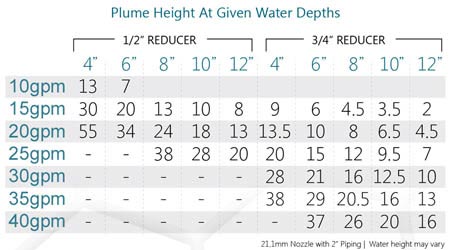 Brilliant Wonders LED Light Bubbler | CMP-J Style Gunite Unit | 100' Cord 2-Wire | 25503-100-000