EP Series
Engineered and Designed Specifically for the Sanitation of Ponds, Fountains, Water Features, Pools and Spas Water Maintenance. Enjoy for life the finest crystal clear water with the best materials thanks to the EP Series UV Sanitizer. Choose DELTA UV for a peace of mind.
The EP Series UV unit automatically sanitizes the water around the clock for pennies a day. Simply incorporate the UV unit into the equipment system and power with a standard 120V plug-in power connection. For those accustomed to using chlorine or bromine, the drastic reduction in chemical usage will be obvious in the first month. With a 16,000 hour (2 year) UV lamp life, routine maintenance is reduced to a 15-minute bulb change every 2 years.
For a Cleaner, Healthier Environment
Drastically reduces chemical usage –economical & eco-friendly
Kills DNA of waterborne green algae – keeps water clear
No risk of over-dosing– protects aquatic life
Eliminates Chloramines—no nasty chlorine smell
Does not produce harmful by-products – no DBP, THM or HAA
Prolongs life of pond & fountain equipment—no corrosion or staining
Compatible with all types of coatings and filters
Easily automated with existing chlorinator
Easy, reliable, environmentally friendly water maintenance
To determine the size for your pond, fountain or water features, simply determine the outflow rate of the circulation pump and the turnover rate of the water. The sizing chart below shows the maximum gallons per minutes (GPM) for each EP Series UV model.
The UV Concept
The sun emits invisible light - ultraviolet light. Through leading edge technology, this natural phenomenon is reproduced inside the sanitizers of the Delta UV product range using powerful UV-C ray lamps. At 254 nanometers, the optimum wavelength for destroying micro-organisms (viruses, bacteria, algae, yeast, mold, etc.), Delta UV-C rays penetrate and disrupt their DNA, permanently deactivating germ cell metabolism so they cannot reproduce.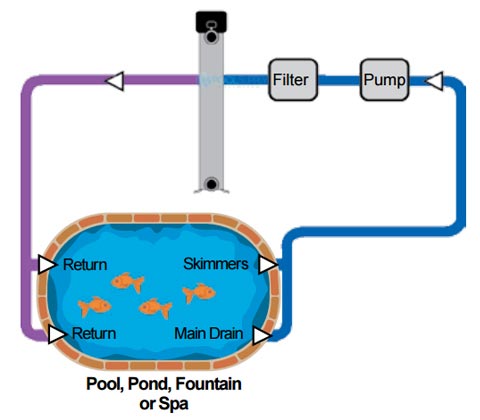 EP Product Line Specifications
Power Input: 120/240V/50/60hz
Housing: Mirror-polished high quality Stainless Steel
Ballast: Electronic
Lamp: High Output - Low Pressure (16,000 hrs.)
Pressure Switch
Pressure Gauge: yes
Indoor/Outdoor Installation: yes
Limited Warranty: 2 Years (1 Year Bulb) Pro-Rated
Plumbing Options: 2" PVC Unions
EP SERIES
EP-5
EP-10
EP-15
EP-20
EP-40
SANITIZER
Material
STAINLESS STEEL
Maximum pressure in Use
40psi
40psi
40psi
40psi
40psi
Flow
26gpm
35gpm
53gpm
70gpm
80gpm
Diameter
6 in.
6 in.
6 in.
6 in.
6 in.
Height
18 in.
25 in.
28 in.
39 in.
46 in.
Inlet / Outlet
2 in.
2 in.
2 in.
2 in.
2 in.
Power supply
120V/240V
50-60Hz
120V/240V
50-60Hz
120V/240V
50-60Hz
120V/240V
50-60Hz
120V/240V
50-60Hz
Protection index
IP 54
NEMA 3
IP 54
NEMA 3
IP 54
NEMA 3
IP 54
NEMA 3
IP 54
NEMA 3
UV LAMP
Number of lamp
1
1
1
1
1
Power
30W
45W
55W
80W
90W
Performance at the
recommended flows
30 mJ/cm²
30 mJ/cm²
30 mJ/cm²
30 mJ/cm²
30 mJ/cm²