Larger, faster, cooler touch screen display and interface for optimal control at your wet fingertips!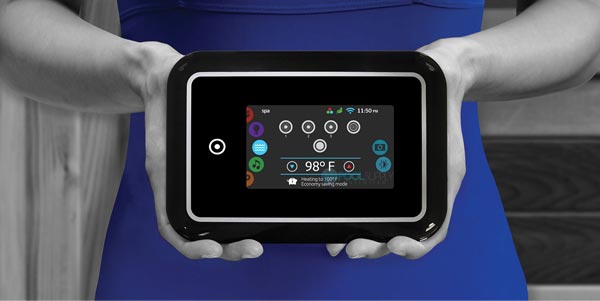 Imagine everything you ever wanted top side controls to be and here you have them. Take them in your hands, get their feel, press a key or two, look at their display and you'll know you're holding Gecko's promises of advanced and reliable technology, a complete series of multi-function and multi-feature keypads for spas and hot tubs.
Features
Capacitive low pressure touch screen
4.3 inch full color LCD
Dimensions: 7-½'' x 5-¼''
Cord length: 10'
Highly responsive user interface
Full compatibility with X and Y series
Preset master key
Installation: MUST be installed on the OUTSIDE edge of the hot tub
Compatibility

in.yt, in.ye, in.yj, in.xe, or in.xm2 spa packs with appropriate software revision

Fun, simple, engaging one-level menu interface
Parting ways with physical buttons, keys and overlays, Gecko's in.k1000 touch screen keypad is fun to use, simple to learn and features an intuitive and engaging one level menu interface.

Truly interactive control of all spa and accessory functions and settings
Mode and function selection wheels, all-on/all-off one touch activation key of last used settings, interactive display icons and on-screen reminders and messages make for a unique user interface. Control and get direct feedback and seamless interaction with your spa equipment and connected value added accessories like in.clear, in.mix and in.stream 2.

Larger, faster and cooler touch screen display
Driven by a powerful 400 MHz processor, in.k1000 keypad features an eye-catching 4.3 in. 256K color LCD capacitive touch screen display, resting in a thin and beautiful enclosure that houses its cutting-edge electronics, fitting perfectly on the edge of any spa.

in.stream 2 controlled from your keypad (only available if the system detects a connected in.stream 2 audio station)

With its seamless integration of connected value-added accessories, in.k1000 lets users enjoy their in.stream 2 audio station through a truly interactive interface that features full control of audio sources, volume and settings, and display of song tag information.

in.mix controlled from your keypad (only available if in.mix is detected among the spa accessories)

Gecko's in.mix color light system gives its user the power to create stunning light shows underwater. Light therapy is truly enjoyed by an ever-growing number of spa users.

Color can indeed entertain, but also sooth, relax and even influence moods. With its three controllable light zones, integrated design, state-of-the-art manufacturing, optimal performance and reliability, Gecko's in.mix is a feature that, without any doubt, adds value to any spa.