Helps Improve Your Pool's Safety & Prevents Accidental Drownings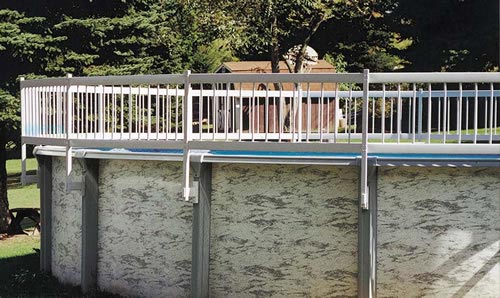 This solid 24" fencing helps to safely keep unwanted intruders out of the pool and keep toys and water games in. The rigid vinyl construction is maintenance-free, U.V.-protected, and can be mounted on any above-ground pool. The mounting brackets are super-strong with rounded edges that easily attach to your pool's uprights. Installation is easy and our fencing can fit any pool. All pools required Base Kit A. See sizing chart below.
To estimate which kits you will need to enclose your pool you will need to count the "fence sections." One fence section equals the amount of fencing used to span between two pool uprights. All fencing, fence posts, installation instructions, and required hardware is included.
Sizes & Specifications
Kit Description
Base Kit "A"
(8) section base kit. Every installation will require one base kit. Base kit includes two end posts; one to start the installation and one to complete the installation.
Add-on Kit "B"
(3) section add-on. Expands the "A" kit by 3 sections
Add-on Kit "C"
(2) section add-on. Expands the "A" kit by 2 sections
Gate
The number of fence sections on a pool vary by pool size, shape and manufacturer as well as decks, ladders and other forms of entrance systems to the pool. One fence section covers one pool top seat/top rail, or the distance between two pool uprights. To determine required kits, please refer to list below.
| Number of top seats | Required Kits |
| --- | --- |
| 8 | 1a |
| 10 | 1a, 1c |
| 12 | 1a, 1b |
| 13 | 1a, 1b, 1c |
| 14 | 1a, 2b |
| 15 | 1a, 1b, 2c |
| 16 | 1a, 2b, 1c |
| 17 | 1a, 3b |
| 18 | 1a, 2b, 2c |
| 19 | 1a, 2b, 2c |
| 20 | 1a, 4b |
| 21 | 1a, 3b, 2c |
| 22 | 1a, 4b, 1c |
| 23 | 1a, 5b |
| 24 | 1a, 4b, 2c |