For entry-level applications, MaxFlo XL™ pumps provide advanced hydraulics while maintaining the economy and performance of the proven MaxFlo family.
Your pool pump is the central element to your pool's "circulation" system. A pump keeps the water moving throughout your pool's equipment system. The Max-Flo XL delivers the constant power needed for circulating and filtering water through your swimming pool. With its heavy-duty, high performance motor, it is prepared to handle any pool environment. This makes the Max-Flo XL pump, the perfect pump for new construction pools or for a current pool owner looking to replace an existing one.
MaxFlo XL is the ideal self-priming, medium-head pump for entry-level, new construction and aftermarket applications. MaxFlo XL's advanced hydraulics deliver the performance and reliability pool pros need, while its silent operation, conveniences and exceptional value will make it a favorite with pool owners.
Applications
In-ground pools of all types and sizes
In-ground spas
Features
All models include 1 1/2" x 2" CPVC union connections
Elevated base insures better ventilation for cooler running and protection from flooding
Pressure testable to 50 psi maximum
Heavy-duty, high performance motor is designed for environments up to 122F
Extra leaf-holding capacity basket extends time between cleaning
Tri-Lock cam and ramp strainer cover design seals with less than a quarter turn
See-through strainer cover lets you see when the basket needs cleaning
Service-ease design provides easy access to internal components by removing only four bolts
Self-priming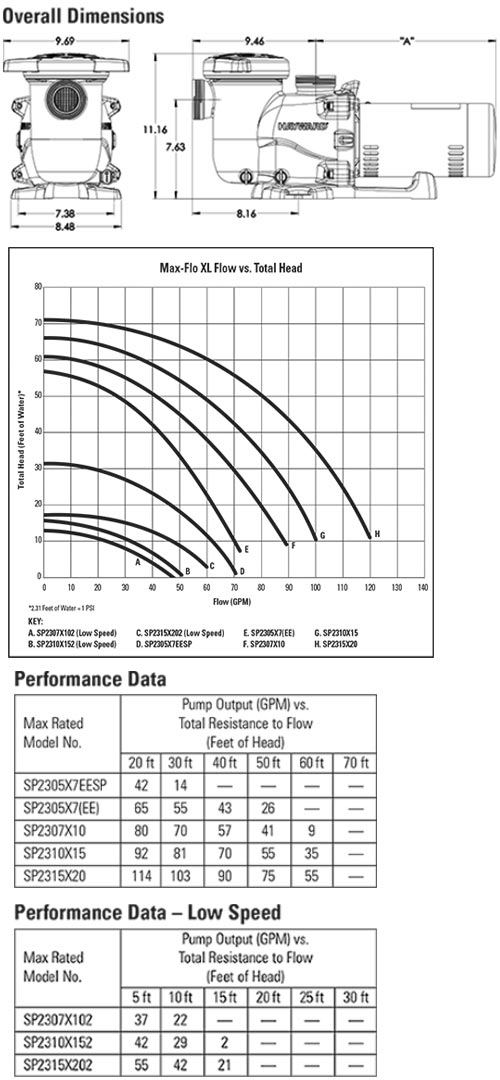 MOTORS
SPX2705Z1M Motor, 3/4 H.P., Threaded Shaft (Single Phase, 60 Cycle 115V/208-230V)
SPX2705Z1ME Motor, 3/4 H.P., Energy Efficient Threaded Shaft (Single Phase, 60 Cycle 115/208-230V)
SPX2707Z1M Motor, 1 H.P., Threaded Shaft (Single Phase, 60 Cycle 115/208-230V)
SPX2710Z1M Motor, 1 1/2 H.P., Threaded Shaft (Single Phase, 60 Cycle 115/208-230V)
SPX2715Z1ME Motor, 2 H.P., Energy Efficient, Threaded Shaft (Single Phase, 60 Cycle 115/208-230V)
SPX2707Z2M Motor, 1 H.P., 2-Speed, Threaded Shaft (Single Phase, 60 Cycle 230V)
SPX2710Z2M Motor, 1 1/2 H.P., 2-Speed, Threaded Shaft (Single Phase, 60 Cycle 230V)
SPX2715Z2M Motor, 2 H.P., 2-Speed, Threaded Shaft (Single Phase, 60 Cycle 230V