NOTICE
: The Texas weather emergency in February, in addition to the ongoing demand increase for pool products from the Covid pandemic, have caused industry-wide shortages on many products that most vendors expect to last late into 2021/early 2022. We're allowing items to be purchased so that customers who choose to wait will have their order shipped when product arrives. Many times there are long shipping delays on the few products we do have in stock. Please contact us to ask about availability.
Live Chat
and email will get the quickest response.
Zodiac Pool Systems - manufacture of Jandy Pool Heaters, which was formerly Teledyne Laars Pool Heaters, has a 60 year history as a swimming pool and spa heat provider. Jandy offers three models of heaters: The Legacy LRZ, LXi and the 95% super efficient Hi-E2. See below for a breakdown on the features of each model.

Which Jandy Pool Heater is right for you and your pool?

Jandy Legacy LRZ Heaters:
The atmospheric Legacy heater builds on Zodiac's long-standing tradition of excellence in gas heater design. Built to last and loaded with technologically-advanced, user-friendly features. Legacy heaters are an energy-efficient, economical pool heating solution.

Available in two models, Electronic Ignition and Millivolt Standing Pilot.

LRZM (Millivolt)- Easy on/off temperature switch control. Mechanical thermostat allows users to easily set pool or spa temperatures.

LRZE (Electronic)- Digital control of pool and spa set-points. Self diagnostics and communication to AquaLink® RS System

Jandy LXi Heaters:
Jandy LXi heaters exceed environmental standards for Low NOx emissions. Lower emissions mean you can enjoy your pool with confidence, knowing your pool equipment is designed with the environment in mind.

The Jandy Pro Series LXi comes automation-ready for easy integration with Jandy Pro Series AquaLink® controls and other control systems. Built-in freeze protection and exclusive "Maintain Temperature" function are also available.

Jandy JXi Heaters:
The JXi heater sets a new standard in pool and spa heating technology with its ultra-compact size, lightweight design, and installation flexibility. The high-efficiency, low-NOx JXi is a top choice for pool professionals and pool owners everywhere.

Jandy HI-E2 Heaters:
With an impressive 95% heating efficiency rating, the Hi-E2 outperforms any other gas heater, reducing operating costs by 30% or more. This ultra-efficient, low-maintenance heater is the perfect choice when considering economic operation or an extended swimming season. Dual thermostat controls make this an excellent solution for pool and spa combinations.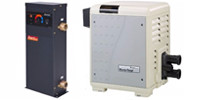 The search for the perfect heater for your pool or spa is sometimes riddled with weird acronyms, strange sizings, and unfamiliar terms. This guide, along with our sizing guide will hopefully provide all the information needed to find the heater perfectly suited for your pool.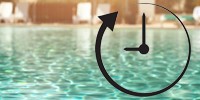 That is a question many people want to know, it is both simple and complex as there are variables to consider. In this article we'll lay out the simple answer for you and discuss the complexities to consider.