NOTICE
: The Texas weather emergency has caused nationwide stock-outs on most products. This includes complete goods and especially parts and plumbing supplies. There are long shipping delays on the few products we do have in stock. Please contact us to ask about availability. Phone calls are being answered as fast as we can or you can use the
Live Chat
for the quickest response.
Pentair & Sta-Rite Pool & Spa Heaters
Heat your pool fast and efficiently with a Pentair or Sta-Rite Pool and Spa Heater. You can expect fast heat-up times, lower operating costs, high performance and long life from all Pentair and Sta-Rite Heaters.

Looking for an Energy Efficient Pentair Heat Pump? Click here.

Which Pentair Pool Heater is right for you and your pool?

MasterTemp®

MasterTemp® heaters offer all the efficiency, convenience and reliability features you want in a pool heater, plus a lot more.

Max-E-Therm®

The Max-E-Therm® features sleek, contemporary styling that offers pool owners an easy choice over the traditional-style. The lightweight, compact design is ideal for retro-fit installation.

MiniMax®

The MiniMax® heater is a compact, self-contained heater. Designed for easy and reliable use, the MiniMax® is the efficient and economical way to keep your spa or small pool at the optimum comfortable temperature.

MegaTherm®

Powerful, efficient and reliable, MegaTherm® pool heaters are designed for commercial, institutional and large residential pools where economical performance and rapid heat-up are required.

PowerMax®

The PowerMax® heater provides peak efficiency and easy maintenance in both indoor and outdoor commercial applications.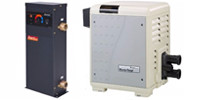 The search for the perfect heater for your pool or spa is sometimes riddled with weird acronyms, strange sizings, and unfamiliar terms. This guide, along with our sizing guide will hopefully provide all the information needed to find the heater perfectly suited for your pool.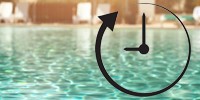 That is a question many people want to know, it is both simple and complex as there are variables to consider. In this article we'll lay out the simple answer for you and discuss the complexities to consider.