MasterTemp® 125 High Performance Heater
Introducing! The High-Efficiency, High Technology Heater for Bodies of Water up to 15,000 gallons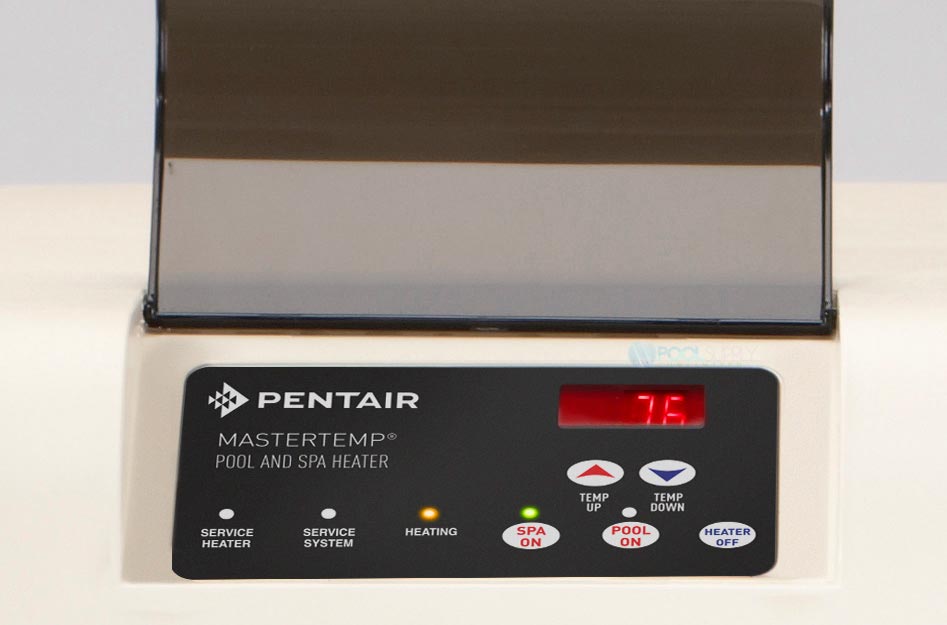 The remarkably affordable new MasterTemp 125 heater gives you the energy savings and advanced operating features that were only available from much larger heaters. With its revolutionary pre-mixed gas combustion technology, the MasterTemp 125 heater offers 82% thermal efficiency - the highest of any heater in its category. Its 1-1/2" plumbing is ideal for smaller applications, including aboveground pools, spas and inground pools up to 15,000 gallons. Featuring the first ever rotating, digital display offered in its class, the MasterTemp 125 heater provides valuable information conveniently and at the touch of a button. Plus, its lightweight, compact design makes the MasterTemp 125 heater easier to install than any other heater in its class - reducing labor costs which saves you money.
New Improved Rodent Resistance for the MasterTemp High Performance Heater
The engineers made improvements to reduce gaps and eliminate access points, including advancements to the heater base, all exterior side panels and louvers, the gas valve and water manifold openings, the exhaust opening and the exhaust cover. These subtle, but important, design changes add up to a better heater, from every angle.
In addition to the new rodent resistant improvements, the features and benefits of a MasterTemp High Performance Heater include:
Enhanced LCD display and diagnostics include easy to display and front-facing error messages and icons
Best-in-class energy efficiency
Eco-friendly certified for low, NOx emission and outperforms industry standard
MasterTemp 125 heater features include:
82% energy efficiency is highest in its class.
1-1/2" plumbing - ideal for smaller bodies of water up to 15,000 gallons.
High-performance, affordable heating with premium features.
Pre-mixed combustion technology for ultra-fast heat-up.
Easy-to-use, digitial display makes programming and monitoring a cinch.
125,000 BTU rating.
Available in natural gas or propane gas.
120v electrical.
Lightweight - easy to handle and ship.
Certified for low NOx emissions.
Certified for Direct Air Intake with PVC Pipe.
Certified for outdoor and indoor vented installations.
Specifications
These installations instructions are designed for use by qualified personnel only, trained especially for installation of this type of heating equipment and related components.
Some states require installation and repair by licensed personnel. If this applies in your state, be sure your contractor bears the appropriate license.