Ultra-High Performance in a Compact, Quiet & Eco-Friendly Design
MasterTemp Heaters offer all the efficiency, convenience and reliability features you want in a pool heater, plus a lot more. As easy to use as your home heating system, plus, user-friendly indicator lights make system operation and monitoring a snap. The compact design and super-quiet operation won't intrude on your poolside leisure time.
MasterTemps easy-to-read controls make system operation and monitoring simple. Pool and spa temperatures can be pre-set and controlled with the push of a button. A digital display indicates the water temperature, and five LED lights give you system status and let you know if the heater needs service.
New Improved Rodent Resistance for the MasterTemp High Performance Heater
The engineers made improvements to reduce gaps and eliminate access points, including advancements to the heater base, all exterior side panels and louvers, the gas valve and water manifold openings, the exhaust opening and the exhaust cover. These subtle, but important, design changes add up to a better heater, from every angle.
In addition to the new rodent resistant improvements, the features and benefits of a MasterTemp High Performance Heater include:
Enhanced LCD display and diagnostics include easy to display and front-facing error messages and icons
Best-in-class energy efficiency
Eco-friendly certified for low, NOx emission and outperforms industry standard
No matter what you're seeking in your swimming pool heater, MasterTemp measures up. Compare this list of features to any other and you'll see why MasterTemp is setting a new standard for total value:
Features:
Very compact design for such a high performance heater allows for smaller overall equipment pads that won't intrude on your poolscape.
Easy to install or retrofit in even the tightest spaces.
A fully pre-mixed system with a highly efficient air and gas mixture lets MasterTemp heat up fast. No long waits before enjoying your pool or spa.
Compare energy efficiency ratings and you'll find MasterTemp at the top of the list. Comfort and economy can go together.
With a hot surface ignition (no pilot light) and pushbutton, digital controls, MasterTemp is as easy to operate as your home heating system. Plus, user-friendly indicator lights make system operation and monitoring a snap.
The easy-to-view, rotating digital display places controls front and center, no matter how MasterTemp is positioned on your equipment pad.
MasterTemp is engineered for super-quiet operation and won't intrude on your poolside leisure time.
A tough, composite exterior handles the heat and weathers the elements.
Safe operation is assured through a series of features, including; a water pressure switch that senses the pump is running to prevent overheating; high limit switches assure the heater turns off if water temperature exceeds factory set limits; manual gas shut-off when service is required; stack flue sensor also guards against overheating.
Approved for installation on combustible surfaces.
Why MasterTemp Heaters are the "Greenest" Choice
An Eco Select Brand: MasterTemp Heaters offer best-in-class energy efficiency. Plus, they are certified for low NOx emissions, making them eco-friendly favorites. In fact, MasterTemp outperforms current industry standards for air pollution exhaust.
The Eco Select Brand identifies Pentair's "greenest" and most efficient equipment choices. These products save energy, conserve water, eliminate noise or otherwise contribute to a more environmentally responsible equipment system.
As the global leader in pool and spa equipment manufacturing, Pentair strives to provide greener choices.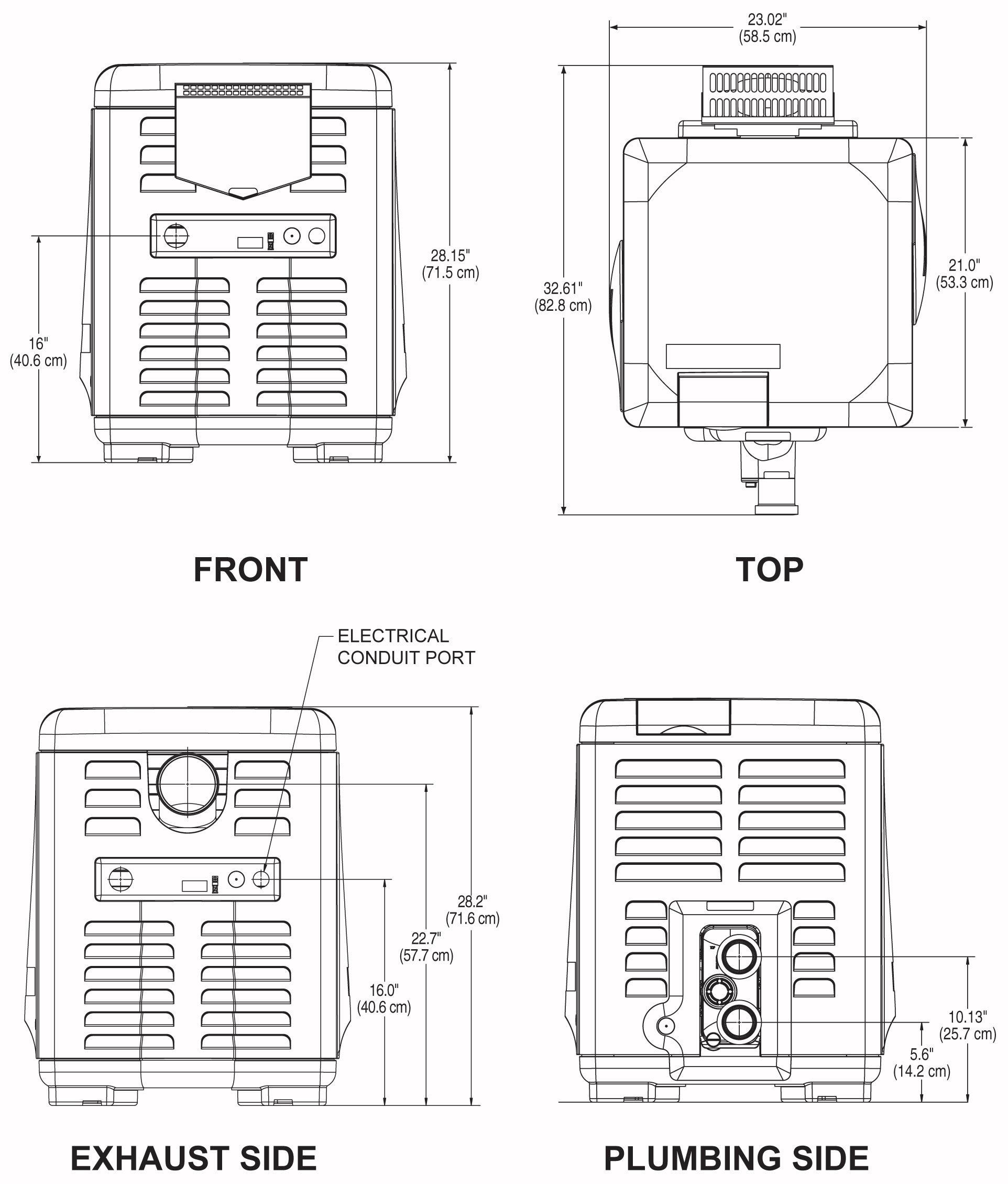 Specifications:
| | |
| --- | --- |
| Brand | Pentair |
| Sub Brand | MasterTemp |
| Item | Low NOx Pool and Spa Heater |
| Type | High Performance |
| Gas Type | Liquid Propane |
| Control Type | Digital |
| BTUH Input | 250,000 |
| Cabinet Width | 23.02" |
| Cabinet Depth | 32.61" |
| Cabinet Height | 28.15" |
| Gas Connection | 3/4" |
| Water Connection | 2" |
| Voltage Rating | 120/240 VAC |
| Frequency Rating | 60 Hz |
| Phase | 1-Phase |
| Flow Rate | 120 gpm |