Saftron Anchor Socket Cover 5.75" Diameter x .75"H | Case | White | ASC-CS-W
Saftron high impact polymer products are made of specially formulated compounds to ensure longevity and unparalleled resistance to the elements, UV, and chemicals while requiring virtually no maintenance. They are guaranteed to keep their smooth, bright finish for many years.

saftron Anchor Socket Covers are used to cover and fill anchor sockets when ladders or rails have been removed. This protects the inside of the anchor sockets from filling with dirt, ice, and other debris. Sold in pairs.
Features:
High impact polymer exterior
Aluminum fully reinforced interior
Guaranteed smoothness for years
resistant to elements, UV, and chemicals
low maintenance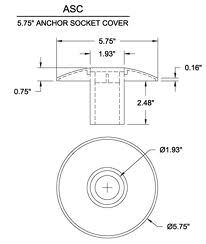 Saftron Anchor Socket Cover 5.75" Diameter x .75"H | Case | White | ASC-CS-W
Platinum Preferred Manufacturer