Product Features: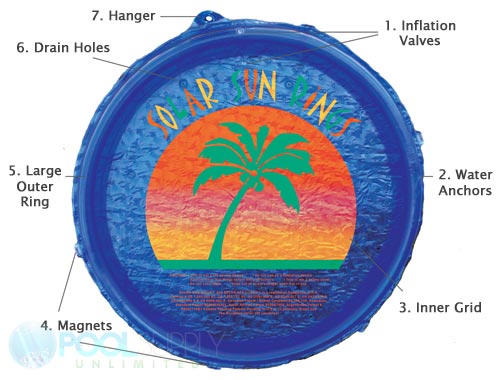 Details:
Inflation valves that regulate their respective chambers
Water anchors are under the larger outer ring and designed to fill with water and weigh down the Solar Sun Ring, keeping it planted (available only on SSRA and SSRAP models).
Inner grid where heat is generated and transferred to the pool. It is composed of two layers of virgin vinyl for maximum effectiveness.
Six magnets that connect and raft with other Solar Sun Rings
Extra large outer ring designed for maximum buoyancy
Drain holes and grommets improve drainage and rigidity

Hanger with grommet
Solar Sun Rings are an economical, energy-efficient way to warm your pool with the most natural heat possible – sunlight. They're composed of two sheets of UV-resistant vinyl: the clear top layer directs solar energy onto the bottom blue layer, which absorbs about half it, converting it into heat. The rest passes directly through the sun rings for deep heating throughout the pool.

At night the rings act as an blanket to retain the heat accumulated through the day.



Each ring is equipped with six magnets to keep groups of rings together, but they will separate easily to prevent entrapment if an accidental fall occurs. The newest ring also include water anchors to help them withstand high winds and stay on the pool surface.
Solar Sun Rings are inflatable, roughly 60" in diameter and ideally should cover about 70% to 80% of your pool's surface. The open areas of your pool still receive direct sunlight, greatly reducing the occurrence of mustard algae.
The rings have numerous other helpful features:
Solar Sun Rings are compatible with automatic pool cleaners. If the suction hose catches on a ring, the ring will separate from the raft to allow the pool cleaner to continue.
Neither water nor pool chemicals evaporate through the two layers of heavyweight vinyl. This saves both money and time spent maintaining water chemistry.
Once water has reached adequate temperature, the rings can be turned over to conserve water by limiting evaporation without significantly heating the water.
The rings require virtually no upkeep and can be easily placed, removed and stacked by a single person. Caution: Do not store in direct sunlight.
They emit no greenhouse gases, leave no waste by-products are 100% recyclable.
A number of improvements have also recently been added to the rings:
The diameter ring has nearly doubled in size, from 1.3 inches to 2.5.
Grommets around drain holes increase rigidity and drainage.
Large grommet added to hanging loop, making it stronger.
Center section connected to bottom of outer ring, for more generated heat.
Water anchor deepened to better withstand high winds.
Softer vinyl finish makes ring more flexible and less likely to overinflate.
Note: Do not over inflate. Do not use as a floatation device.
Size Chart

Oval Pools
19ft x 12ft = 5 Rings
23ft x 12ft = 7 Rings
24ft x 12ft = 7 Rings
30ft x 15ft = 13 Rings
33ft x 18ft = 16 Rings

Rectangle Pools
20ft x 10ft = 6 Rings
24ft x 12ft = 8 Rings
28ft x 14ft = 14 Rings
30ft x 15ft = 15 Rings
32ft x 16ft = 16 Rings
36ft x 18ft = 19 Rings
40ft x 20ft = 26 Rings

Round Pools
12ft = 3 Rings
15ft = 5 Rings
18ft = 7 Rings
21ft = 10 Rings