Free Solar Heat From The Sun! - 3-Pack
Noair Heat Squares are an inexpensive way to help your pool water retain the heat it already has, plus absorb heat from the sun during the day to increase water temperature. What does this mean for you?
Features
Reduced energy costs heating your swimming pool
Less wear and tear on your pool heating system
Extend your pool season beyond just the summer
Warm water for night swimming
The Noair Heat Squares are easy to apply to the surface of your pool:
1. Place on pool deck in direct sunlight for 5-10 minutes
2. Close air valves (used only for packaging purposes) and place on pool surface with logo facing up
3. To increase heat gain and decrease evaporation additional squares may be added
And they can be quickly put away and stored when not needed:
1. Rinse cover with fresh water to remove any damaging salt or pool chemicals
2. Dry cover to remove any excess water
3. Store in a cool, clean location out of direct sunlight
Ready to use!, NO inflation Required, and the exclusive "No Lip Design" design means cover will not blow away in windy conditions!
Noair Heat Squares are perfect for pools of any shape or size. They're effective for both inground and above ground pools, as well as spas.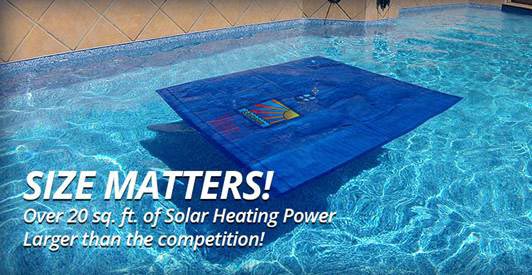 You can cover as much of your pool as you wish with solar squares. A handful of them are simpler to maintain and may be sufficient in warmer climates, while more complete coverage saves more on energy bills and water/chemical replenishment expenses.
Use this calculator to determine how many Noair Heat Squares you need:
| | | |
| --- | --- | --- |
| Pool Size | Minimum Required | Suggested Amount |
| | 50% Coverage | 70-80% Coverage |
| 12' x 18' | 6 | 9 |
| 12' x 24' | 8 | 12 |
| 14' x 28' | 10 | 15 |
| 15' x 30' | 12 | 18 |
| 16' x 32' | 14 | 21 |
| 18' x 36' | 16 | 24 |
| 20' x 40' | 20 | 30 |
| 15' Round | 4 | 6 |
| 18' Round | 6 | 9 |
| 24' Round | 12 | 18 |