NOTICE
: The Texas weather emergency in February in addition to the ongoing demand increase for pool products from the Covid pandemic have caused industry-wide shortages with products. We're allowing items to be purchased so that customers who choose to wait will have their order shipped when product arrives. Many times there are long shipping delays on the few products we do have in stock. Please contact us to ask about availability.
Live Chat
and email are the best. Please keep trying back via chat and email as we can't answer them as fast as they come in but we are here, so keep trying! We're currently 13+ days behind on returning email (email is the best way to get a reply when all chat associates are busy).
The possibilities are endless with Stenner pump products. Select from an array of Stenner peristaltic pumps and auxiliary items for oxidation, disinfection, pH control, or the injection of additives to meet the specifics of your water treatment or metering application.

One of the apprehensions of a peristaltic metering pump is replacing the tube. Stenner has the answer with two methods, the QuickPro® (patent pending) and the Econ quick release patented pump head. Both are easy and fast plus tools are not required.

Quick and Easy Serviceability

The practical modular design saves valuable servicing time. All major pump components are secured by stainless locking rivets, allowing the units to be disassembled quickly without tools and can easily be converted to other models.

Less Down Time

The peristaltic pumping action eliminates down time from prime loss due to off-gassing solutions and eliminates the need for troublesome degassing valves.

Easy Tube Maintenance

Simple periodic tube replacement minimizes down time and maintenance costs. All that is required is setting the tube in place and guiding it as it threads itself into position. No lubrication is required.

Dependable Mechanical Control

The feed rate control in the Classic series allows the pump's output to be scaled from 5% to 100% with the simple turn of the external dial ring.

100 psi Handling

Stenner manufactures a peristaltic metering pump that operates reliably against 100 psi.

Safe and Versatile

Various solutions and chemicals can be metered without harm to the unit because they are pumped without exposure to air or the moving mechanical parts. Hydraulic fluids are not used and therefore can not leak into the solutions metered.

Interchangeable Components

The snap-fit modular design allows easy conversion to another model providing customers with flexibility for various applications.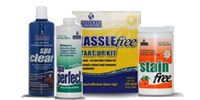 There are a lot of factors involved in getting pool water clean, crystal clear and into the natural looking condition that we have become accustomed to. Among the unsung heroes working behind the scenes are pool chemicals.