A great way to relax, stay fit and unwind wherever you are!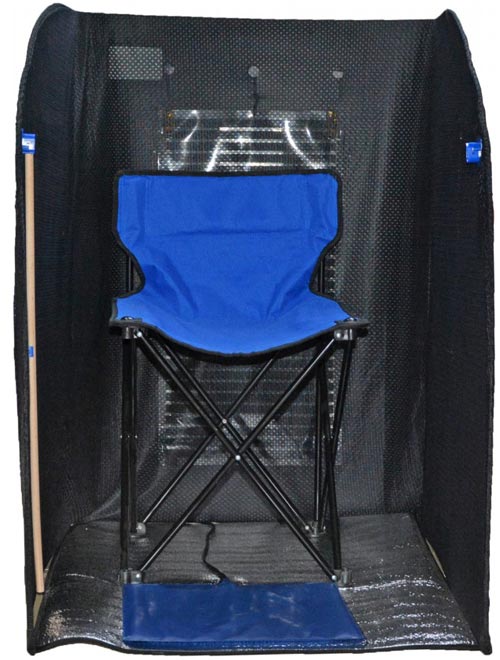 Enjoy relaxation on the go with the Rejuvenator Portable Sauna. This gorgeous, personal sauna features 3 carbon heating panels that evenly distribute heat, blanketing your body in soothing warmth. An included foot heater provides an additional layer of relaxation. Its canvas seat is perfectly designed to fit within the sauna, and is constructed with tubular steel for strength and durability. Easy, one-minute set up makes it simple to enjoy your sauna anywhere you go. Its moisture-resistant fabric provides protection against humidity. And when you're done, this portable sauna's collapsible design makes it easy to transport or store.
Light weight - portable sauna with built in auto shut off safety feature, durable moisture resistant layered satin polyester material, energy efficient low EMF carbon fiber infrared heater panels. Assembles in minutes – no tools needed- completely portable easily folds up for storage or travelling.
Includes
Comfortable Size Cabin Space, Remote Temperature and Timer Control, Foldable Chair, Insulated - Padded Sponge floor mat
Fully insulated - 3 layers – Rich looking satin polyester exterior fabric, cotton insulation and a durable reflective polyester inside material - lock stitched together for superior panel strength
Exterior fabric color – Medium gray with stylish nylon black accent piping
Padded - double lined - comfortable neck collar
Pre attached EZ fit solid Beech hardwood dowel frame support system
Quick - Easy set up in minutes – no tools required
High Quality dual interior/exterior front compartment zippers
3- ETL approved energy efficient low EMF carbon fiber heating panels
Safe easy fingertip hand held controller with 6 automatic timer options
5 Levels of pre –set heat temperature options – built in thermostat
Heats to desired temperature rapidly – 150* maximum temperature
UL approved 6.5' electric power cord with built in safe secure Velcro cord attachments
Power supply - 120V/60MHz with 6.5-ft cord; 900 watts provide heat up to 150ºF
Quick set portable chair- easy to clean - oxford canvas fabric with a sturdy metal support system – Rated to support up to 220 lbs.
Soft - padded PVC carbon fiber heated foot pad
1 Adult capacity
Exterior Cabin: 28-in W x 33.5-in D x 38.1-in H; Interior Cabin: 27.5-in W x 30.5-in D x 37-in H
Chair: 17.5-in W x 17.75-in D x 26-in H
Product weight – 15.4 pounds
Includes: fabric cabin, neck collar, Beech dowel frame, 3 heating panels, remote control, portable chair, foam floor mat, heated foot pad, and ionizer
Usage Precautions
This sauna is not medical equipment and is not intended for medical purposes
Check with your doctor before using this sauna when pregnant or if under medical care
Stop using the sauna immediately if you feel uncomfortable, dizzy or sleepy
Do not plug in while folded for storage
Staying too long in the sauna can cause overheating